Softday: Amhrán na mBeach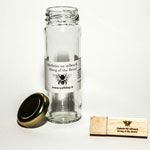 Amhrán na mBeach (Song of the Bees) [excerpt] from Mikael Fernström on Vimeo.
This is a limited edition artefact, designed by Softday, containing video, audio and text from their Amhrán na mBeach project. Based on four years of scientific data about bee diseases and colony losses in Ireland, Softday created a work for the Glenstal Abbey Choir, organ and the Irish Chamber Orchestra. A sound art composition was also created by the Softday Apiary Ensemble, based on field recordings carried out by the participating beekeepers in their respective habitats.
Artists
Irish Chamber Orchestra, Glenstal Abbey group, Cyprian Love (org), Softday Apiary Ensemble.