The Seville Suite
CMC's online shop has Digital Scores, Printed" Scores, Books, & CD's all available to purchase online. The works contained within our Choral Music Catalogues are available to purchase online by licensed download.
"Please be aware that due to the ongoing Covid 19 situation we are currently not fulfilling physical score orders, a digital version will be provided at a discounted cost. Please apply coupon code covid19 at the checkout"(for physical score orders only)
Seachanges and RIAM Piano Syllabus pieces are still available to purchase online as a physical product. The price has been adjusted to include P&P.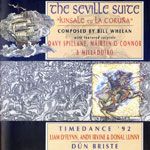 Bill Whelan's first major orchestral composition, 'The Seville Suite', was composed in 1992. Through music, the work tells the historical story of the legendary Red Hugh O'Donnell after his defeat at the Battle of Kinsale and his journey to La Coruna in Spain.
Artists
Davy Spillane (uilpipes), Xose Ferreiros (whistles), Nandro Casal (galaçian pipes), Máirtín O'Connor (acc), Mel Mercier (bodhrán), Rodrigo Romani (hrp), Mairéad Nesbitt (vn), RTE Concert Orchestra, conductor Proinnsías O' Duinn.
Artists
Davy Spillane (uilpipes), Dónal Lunny (bodhrán, bouzouki, gui), Andy Irvine (bouzouki, mandolin), Nollaig Casey (fiddle), Bill Whelan (pf, kbd, perc), Timedance String Emsemble, conductor Proinnsías Ó Duinn.
Artists
Dónal Lunny (tin whistle), Bill Whelan (kbd), Timedance String Ensemble, conductor Proinnsías Ó Duinn.