The Seville Suite
CMC's online store has Digital Scores, Printed Scores, Books, & CD's all available to purchase online. The works contained within our Choral Music Catalogues are available to purchase online by licensed download. All orders, both physical and digital take between 5 and 10 business days to be processed. 
Please note that not all scores listed for sale have parts.  Should you require parts (including tape parts) for any of these scores, they are available upon request by contacting our Production Coordinator, Keith Fennell. 
To visit the library by appointment, please see here for details on how to book.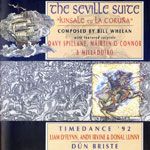 Bill Whelan's first major orchestral composition, 'The Seville Suite', was composed in 1992. Through music, the work tells the historical story of the legendary Red Hugh O'Donnell after his defeat at the Battle of Kinsale and his journey to La Coruna in Spain.
Artists
Davy Spillane (uilpipes), Xose Ferreiros (whistles), Nandro Casal (galaçian pipes), Máirtín O'Connor (acc), Mel Mercier (bodhrán), Rodrigo Romani (hrp), Mairéad Nesbitt (vn), RTE Concert Orchestra, conductor Proinnsías O' Duinn.
Artists
Davy Spillane (uilpipes), Dónal Lunny (bodhrán, bouzouki, gui), Andy Irvine (bouzouki, mandolin), Nollaig Casey (fiddle), Bill Whelan (pf, kbd, perc), Timedance String Emsemble, conductor Proinnsías Ó Duinn.
Artists
Dónal Lunny (tin whistle), Bill Whelan (kbd), Timedance String Ensemble, conductor Proinnsías Ó Duinn.