Scott McLaughlin - there are neither wholes nor parts
CMC's online store has Digital Scores, Printed" Scores, Books, & CD's all available to purchase online. The works contained within our Choral Music Catalogues are available to purchase online by licensed download.
Owing to Covid19, we are not fulfilling physcial orders of Scores, a digital copy will be provided where available. Please use coupon code covid19 for scores which will be received in digital format. 
Copies of Seachanges and the RIAM curriculum pieces are available in physical format.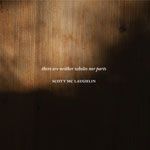 This Ergodos release features the music of composer Scott McLaughlin, and is produced by the composer. Performers include Quatour Bozzini, clarinettist Jonathan Sage, Metastable Collective, saxophonist Iain Harrison and Trio Scordatura.