Rush
CMC's online shop has Digital Scores, Printed" Scores, Books, & CD's all available to purchase online. The works contained within our Choral Music Catalogues are available to purchase online by licensed download.
"Please be aware that due to the ongoing Covid 19 situation we are currently not fulfilling physical orders, a digital version will be provided at a discounted cost. Please apply coupon code covid19 at the checkout"
Seachanges and RIAM Piano Syllabus pieces are still available to purchase online as a physical product. The price has been adjusted to include P&P.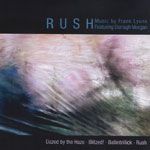 The title track Rush, for violin and live electronics, is a groundbreaking piece featuring the Wired Ensemble and violinist Darragh Morgan. It was premiered in 2004 at the Sonorities Festival and was subsequently shortlisted for a British Composer Award. Among the several other tracks scored for violin and electronics is Lyons' most recent work Ballintrillick which is a series of sonic responses to poems by Tom Morgan, whose titles and content refer to an area in Sligo where he spends much of his time.