Rush
CMC's online store has Digital Scores, Printed Scores, Books, & CD's all available to purchase online. The works contained within our Choral Music Catalogues are available to purchase online by licensed download. All orders, both physical and digital take between 5 and 10 business days to be processed. 
Please note that not all scores listed for sale have parts.  Should you require parts (including tape parts) for any of these scores, they are available upon request by contacting our Production Coordinator, Keith Fennell. 
To visit the library by appointment, please see here for details on how to book.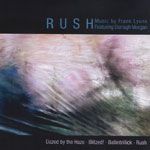 The title track Rush, for violin and live electronics, is a groundbreaking piece featuring the Wired Ensemble and violinist Darragh Morgan. It was premiered in 2004 at the Sonorities Festival and was subsequently shortlisted for a British Composer Award. Among the several other tracks scored for violin and electronics is Lyons' most recent work Ballintrillick which is a series of sonic responses to poems by Tom Morgan, whose titles and content refer to an area in Sligo where he spends much of his time.