The Relief of Derry Symphony
CMC's online store has Digital Scores, Printed Scores, Books, & CD's all available to purchase online. The works contained within our Choral Music Catalogues are available to purchase online by licensed download. All orders, both physical and digital take between 5 and 10 business days to be processed. 
Please note that not all scores listed for sale have parts.  Should you require parts (including tape parts) for any of these scores, they are available upon request by contacting our Production Coordinator, Keith Fennell. 
To visit the library by appointment, please see here for details on how to book.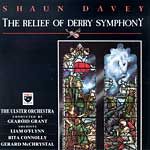 Commissioned by Derry City Council to celebrate the Tercentenary of the Siege of Derry. Shaun Davey writes, 'I felt the music should attempt to speak in terms of the most profound sympathy and respect for people who suffered so unavoidably in times of cruelty and lawlessness'. Performed by the Ulster Orchestra with conductor Gearóid Grant and soloists Liam O'Flynn, Rita Connolly and Gerard McChrystal.
Artists
Rita Connolly (S-solo), Gerard McChrystal (ssax), Liam O'Flynn (uilpipes), William West (org), The Colmcille Pipe Band, The Graham Memorial Pipe Band, The Neilston and District Pipe Band, The Rutherglen Pipe Band, The Brittania Brass and Reed Band, St Mary's Concert Band, The Ulster Orchestra, Gearóid Grant (conductor).