The Relief of Derry Symphony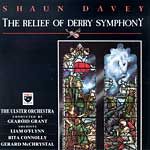 Commissioned by Derry City Council to celebrate the Tercentenary of the Siege of Derry. Shaun Davey writes, 'I felt the music should attempt to speak in terms of the most profound sympathy and respect for people who suffered so unavoidably in times of cruelty and lawlessness'. Performed by the Ulster Orchestra with conductor Gearóid Grant and soloists Liam O'Flynn, Rita Connolly and Gerard McChrystal.
Artists
Rita Connolly (S-solo), Gerard McChrystal (ssax), Liam O'Flynn (uilpipes), William West (org), The Colmcille Pipe Band, The Graham Memorial Pipe Band, The Neilston and District Pipe Band, The Rutherglen Pipe Band, The Brittania Brass and Reed Band, St Mary's Concert Band, The Ulster Orchestra, Gearóid Grant (conductor).