Recital
CMC's online shop has Digital Scores, Printed" Scores, Books, & CD's all available to purchase online. The works contained within our Choral Music Catalogues are available to purchase online by licensed download.
"Please be aware that due to the ongoing Covid 19 situation we are currently not fulfilling physical score orders, a digital version will be provided at a discounted cost. Please apply coupon code covid19 at the checkout"(for physical score orders only)
Seachanges and RIAM Piano Syllabus pieces are still available to purchase online as a physical product. The price has been adjusted to include P&P.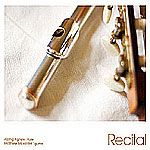 Flautist Aisling Agnew and classical guitarist Matthew McAllister met in Glasgow whilst studying at the Royal Scottish Academy of Music and Drama. Their joint passion for chamber music, interacting with composers and performing new music immediately brought them together. Their debut album, 'Recital', features a wide range of virtuosic and beautiful music from Greg Caffrey, David Fennessy and others.