In the Ranelagh Gardens
CMC's online store has Digital Scores, Printed Scores, Books, & CD's all available to purchase online. The works contained within our Choral Music Catalogues are available to purchase online by licensed download. All orders, both physical and digital take between 5 and 10 business days to be processed. 
Should you require parts (including tape parts) for any of these scores, they are available upon request by contacting our Production Coordinator, Keith Fennell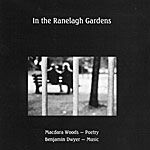 A collaboration between poet Macdara Woods and composer Benjamin Dwyer, this CD is a compilation of readings and compositions by both artists. Dwyer performs on guitar with Susan Doyle (flute), Kenneth Edge (saxophone) and Richard O'Donnell (percussion).