The Rainbow Comes and Goes
Please be aware that due to the ongoing COVID-19 pandemic and the current restrictions on movement, we are unable to fulfil physical orders. We are endeavouring to fulfil score orders digitally and have made available to you a discount coupon "covid19" which you can apply to your order at checkout. Please note that digital scores are subject to availability, please contact kfennell@cmc.ie if you have any queries regarding your order.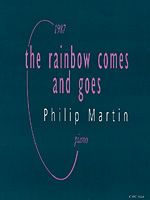 This lyrical four-movement suite takes its title from Wordsworth's poem, Ode on Intimations of Immortality from Recollections of Early Childhood: 'The Rainbow comes and goes, and lovely is the rose…'. It was dedicated to the composer's twin children who were in their third year at the time and still 'trailing clouds of glory.' Commissioned by the GPA Dublin International Piano Competition 1988 with funds provided by the Irish Music Rights Organisation and The Arts Council/An Chomhairle Ealaíon.
Contemporary Music Centre Editions
Contemporary Music Centre