The Pilgrim
CMC's online store has Digital Scores, Printed Scores, Books, & CD's all available to purchase online. The works contained within our Choral Music Catalogues are available to purchase online by licensed download. All orders, both physical and digital take between 5 and 10 business days to be processed. 
Please note that not all scores listed for sale have parts.  Should you require parts (including tape parts) for any of these scores, they are available upon request by contacting our Production Coordinator, Keith Fennell. 
To visit the library by appointment, please see here for details on how to book.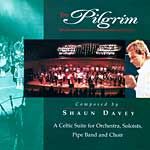 'Shall I take my little black currach over the broad-breasted glorious ocean? O King of the bright kingdom, shall I go of my own choice upon the sea?'. Written by Shaun Davey in 1982 for orchestra, soloists, pipe band and choir, this recording incorporates live performances taken from both the premiere in Brittany in 1983 and the revised 1990 performance in Glasgow.
Artists
Josik Allot, Tom Anderson, Rita Connolly, Helen Davies, Iarla O'Lionaird, Liam O'Flynn, Bernard Pichard, Carlos Real Rodreguez, Vincente Manuel Tuñas, Mick Lally (speaker), Cord Gord 'rer Garth, Kerensa, An Tryskell City of Glasgow Chorus, Wallacestone Pipeband, City of Glasgow Pipes and dms, Lorient Festival orchestra, conductor Noel Kelehan, Glasgow Philharmonic Orchestra, conductor Iain Sutherland.