Piano Album I
CMC's online store has Digital Scores, Printed Scores, Books, & CD's all available to purchase online. The works contained within our Choral Music Catalogues are available to purchase online by licensed download. All orders, both physical and digital take between 5 and 10 business days to be processed. 
Please note that not all scores listed for sale have parts.  Should you require parts (including tape parts) for any of these scores, they are available upon request by contacting our Production Coordinator, Keith Fennell. 
To visit the library by appointment, please see here for details on how to book.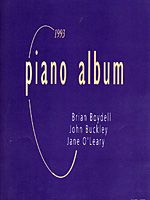 The works in this collection were specially commissioned by the 1994 GPA Dublin International Piano Competition (with funding provided by The Arts Council/An Chomhairle Ealaíon) as test pieces for the competition.Brian Boydell, John Buckley and Jane O'Leary, three of Ireland's most prominent composers, have written recital-standard works in very contrasting styles. Boydell's The Maiden and the Seven Devils is a lyrical, pianistic piece subtitled 'A Legend for Piano Solo'. Buckley's The Silver apples of the moon, The golden apples of the sun, takes its inspiration from lines in W. B. Yeats' poem, The Song of Wandering Aengus. Jane O'Leary's From the crest of a green wave, a title taken from Brendan Kennelly's poem, A Music, moves through a series of episodes, each growing out of common musical material.
Contemporary Music Centre Editions
Contemporary Music Centre