The Passing Sound of Forever
CMC's online shop has Digital Scores, Printed" Scores, Books, & CD's all available to purchase online. The works contained within our Choral Music Catalogues are available to purchase online by licensed download.
"Please be aware that due to the ongoing Covid 19 situation we are currently not fulfilling physical orders, a digital version will be provided at a discounted cost. Please apply coupon code covid19 at the checkout"
Seachanges and RIAM Piano Syllabus pieces are still available to purchase online as a physical product. The price has been adjusted to include P&P.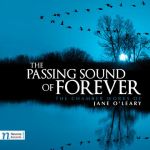 Sound and space are two elements that emerge at the heart of Jane O'Leary's THE PASSING SOUND OF FOREVER. The collection showcases O'Leary's compositional gifts through a variety of her chamber compositions. O'Leary's string writing soars in THE PASSING SOUND OF FOREVER, and demonstrates her remarkable sensitivity to the instruments' sonic palette and expressive potential. Every color, from ethereal natural harmonics to frenetic bowing, is at O'Leary's disposal, and is exploited beautifully to produce evocative and compelling soundscapes.
O'Leary is imaginative and creative in her string writing, resonating the instruments' strings in a wide variety of ways. Harmonics and arpeggiations create vast open spaces. In the case of A Winter Sketchbook, violin sounds are integrated with those of the alto flute, matching colors and creating new blends of sound. A Winter Sketchbook resonates profoundly as it casts the indelible image of deep winter.
THE PASSING SOUND OF FOREVER's title track is composed for string quartet, which makes it a shining and exemplary representation of O'Leary's expressive string writing. The Passing Sound of Forever, originating from a motif found in a Beethoven quartet, plays with fragmentary gestures which emerge and disappear, echo and reflect. The work is filled with a deep yearning, which is communicated by the accumulated gestures and sounds of the quartet's four string instruments. The Passing Sound of Forever epitomizes O'Leary's unique ability to evoke vivid emotions from the simplest aspects of string instruments' sound.
Not every work on THE PASSING SOUND OF FOREVER features strings, but all seem to engage with the same themes of space and sound. O'Leary's clarinet and piano duo Murmurs and Echoes, for example, creates the sense that its two instruments are communicating across great time and distance, most notably so in its last movement. When their respective gestures mirror one another's, they do so with the distortion of an echo crossing a vast space. In this way, Murmurs and Echoes reminds of A Winter Sketchbook, as both works use modest forces to generate a surprisingly resonant musical space.