New Works for Percussion
Please be aware that due to the ongoing COVID-19 pandemic and the current restrictions on movement, we are unable to fulfil physical orders. We are endeavouring to fulfil score orders digitally and have made available to you a discount coupon "covid19" which you can apply to your order at checkout. Please note that digital scores are subject to availability, please contact kfennell@cmc.ie if you have any queries regarding your order.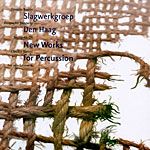 The six members of Slagwerkgroep Den Haag (Percussion Group of The Hague) have 600 instruments and a repertoire that encompasses the entire literature of western percussion music. The five very diverse and distinctive works on this CD, among them Donnacha Dennehy's 'Composition for Percussion, Loops, Blips and Flesh', were specially commissioned for the group in 2002-03.