New Music for Orchestra (1998)
Please be aware that due to the ongoing COVID-19 pandemic and the current restrictions on movement, we are unable to fulfil physical orders. We are endeavouring to fulfil score orders digitally and have made available to you a discount coupon "covid19" which you can apply to your order at checkout. Please note that digital scores are subject to availability, please contact kfennell@cmc.ie if you have any queries regarding your order.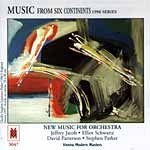 C. S. L. Parker's Violin Concerto No. 1 is performed by the Moravian Philharmonic Orchestra with its concert master, Antonin Hradil, as soloist. Three other contemporary composers are featured on this CD.
Artists
Antonin Hradil (vn), Moravian Philharmonic, conductor Toshiyuki Shimada.