The Middle Kingdom, Volume 2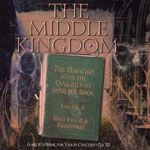 Middle Kingdom is a reflective process of compositional techniques scored for solo violin and piano. The cycle is linked by five countries and draws upon Medieval England, the Hebrew scriptures, the vast expanse of the Arabian desert, Israel, Celtic Ireland, Arthurian legends and Welsh magic.
Artists
Claire Anne Lynch (vn), Antonin Prihoda (vn),Petra Lexova (vn), C.S.L. Parker (pf).