The Middle Kingdom, Volume 2
CMC's online store has Digital Scores, Printed Scores, Books, & CD's all available to purchase online. The works contained within our Choral Music Catalogues are available to purchase online by licensed download. All orders, both physical and digital take between 5 and 10 business days to be processed. 
Owing to Covid19, we are not fulfilling physcial orders of Scores, a digital copy will be provided where available. Please use coupon code covid19 for scores which will be received in digital format. 
Copies of Seachanges and the RIAM curriculum pieces are available in physical format.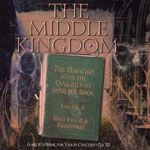 Middle Kingdom is a reflective process of compositional techniques scored for solo violin and piano. The cycle is linked by five countries and draws upon Medieval England, the Hebrew scriptures, the vast expanse of the Arabian desert, Israel, Celtic Ireland, Arthurian legends and Welsh magic.
Artists
Claire Anne Lynch (vn), Antonin Prihoda (vn),Petra Lexova (vn), C.S.L. Parker (pf).