Malachy Robinson: the Irish double bass
CMC's online store has Digital Scores, Printed Scores, Books, & CD's all available to purchase online. The works contained within our Choral Music Catalogues are available to purchase online by licensed download. All orders, both physical and digital take between 5 and 10 business days to be processed. 
Please note that not all scores listed for sale have parts.  Should you require parts (including tape parts) for any of these scores, they are available upon request by contacting our Production Coordinator, Keith Fennell. 
To visit the library by appointment, please see here for details on how to book.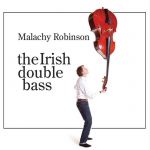 "The 2020 Covid19 pandemic coincided with my reaching the age of fifty,  and so a universal period of reflection and re-evaluation was heightened by this mid-life milestone.  In the absence of concerts, the risk for a performing musician was of falling into despondency, leaving one's instrument aside because there was no point in practising.  Some of my friends went that way.  But I felt that I had to fight the melancholy for fear of being overcome by it, and it resulted in a deeply rewarding period with my bass.  I had the time to engage with Joesph Groococks' Sonata at last, and after a couple of months had decided how best to adapt it to the larger instrument. I then revisited a number of Irish solo pieces that had particularly resonated with me – and which explored different facets of the bass – and with the support of the Sligo International Chamber Music Festival I contacted Deirdre Gribbin for something brand new to round it off.  A successful funding application led to the recording of this album in March 2021, with the remarkable Laoise O'Brien producing, the unflappable Ben Rawlins engineering, and the brilliant Gary Beecher on piano.  What fun we had!
This album, then, is three things: a personal retrospective, a look at a diverse set of composers from Ireland through the medium of my instrument, and a celebration of what you can do with a double bass.  From the traditional craftsmanship of the Sonata to the gay abandon of Bodhrán; from 1985 to 2021; from the very bottom to the tippytop; from me to you, with gratitude for the privilege of a life in music. "
Malachy Robinson