Ian Wilson: Bewitched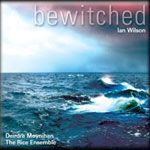 In this song cycle the texts are actual segments of conversations with patients during Ian Wilson's residency at the Stroke Unit of the Adelaide and Meath Hospital in Tallaght. Each song by Wilson segues into a song sung by Doris Day, the latter always reflecting on the former in ways which can be by turns poignant and witty.
Artists
Deirdre Moynihan (S-solo), The Rice Ensemble: Kenneth Rice (vn), Nicola Sweeney (vn), Joachim Roewer (va), Malachy Robinson (db).