Hommage John Kinsella
Please be aware that due to the ongoing COVID-19 pandemic and the current restrictions on movement, we are unable to fulfil physical orders. We are endeavouring to fulfil score orders digitally and have made available to you a discount coupon "covid19" which you can apply to your order at checkout. Please note that digital scores are subject to availability, please contact kfennell@cmc.ie if you have any queries regarding your order.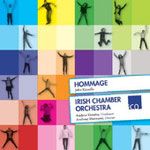 This CD includes five of John Kinsella's works, including a new version of his 'Nocturne', for Cello and String Orchestra, recorded by the Irish Chamber Orchestra in their studio in Limerick. It also features a live version of his 'Prelude and Toccata' for String Orchestra recorded at the University of Notre Dame, Indiana in 2009.