Hold the Passion
CMC's online store has Digital Scores, Printed Scores, Books, & CD's all available to purchase online. The works contained within our Choral Music Catalogues are available to purchase online by licensed download.
Owing to Covid19, we are not fulfilling physcial orders of Scores, a digital copy will be provided where available. Please use coupon code covid19 for scores which will be received in digital format. 
Copies of Seachanges and the RIAM curriculum pieces are available in physical format.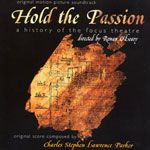 Hold The Passion is a story of the life of Deirdre O'Connell and the history of the Focus Theatre. Ann McRory's documentary film and the original music of CSL Parker give us insight to the life and endeavours of Deirdre O'Connell.
Artists
Dublin City Chamber Orchestra, conductor Eimear Noone.