Grá agus Bás
Please be aware that due to the ongoing COVID-19 pandemic and the current restrictions on movement, we are unable to fulfil physical orders. We are endeavouring to fulfil score orders digitally and have made available to you a discount coupon "covid19" which you can apply to your order at checkout. Please note that digital scores are subject to availability, please contact kfennell@cmc.ie if you have any queries regarding your order.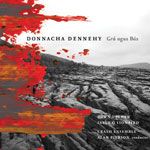 Grá agus Bás is the label debut from Irish composer Donnacha Dennehy featuring two works performed by the Dublin-based Crash Ensemble, conducted by Alan Pierson. The title track, which translates as 'love and death', is inspired by sean-nós or 'old style' Irish vocal music, the vocals performed by Irish singer Iarla Ó Lionáird. Soloist, Dawn Upshaw features on the song cycle That the Night Come, six settings of poems by W.B. Yeats.
Artists
Iarla Ó Lionáird (voice), Crash Ensemble, conductor Alan Pierson.
Artists
Dawn Upshaw (voice), Crash Ensemble, conductor Alan Pierson.