Gerald Barry: Nua Nós
CMC's online store has Digital Scores, Printed Scores, Books, & CD's all available to purchase online. The works contained within our Choral Music Catalogues are available to purchase online by licensed download. All orders, both physical and digital take between 5 and 10 business days to be processed. 
Please note that not all scores listed for sale have parts.  Should you require parts (including tape parts) for any of these scores, they are available upon request by contacting our Production Coordinator, Keith Fennell. 
To visit the library by appointment, please see here for details on how to book.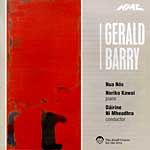 Gerald Barry's music has been described as 'the most exciting, most sheerly intense new music...for a long, long time'. This CD contains a selection of his most important chamber pieces, including the Piano Quartet No. 1, a set work for the Leaving Certificate music syllabus. The performers are the Irish group Nua Nós directed by Dáirine Ní Mheadhra.