Gerald Barry - The Importance of Being Earnest
Please be aware that due to the ongoing COVID-19 pandemic and the current restrictions on movement, we are unable to fulfil physical orders. We are endeavouring to fulfil score orders digitally and have made available to you a discount coupon "covid19" which you can apply to your order at checkout. Please note that digital scores are subject to availability, please contact kfennell@cmc.ie if you have any queries regarding your order.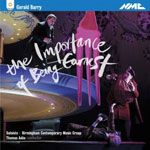 This recording features Gerald Barry's recent opera performed by Birmingham Contemporary Music Group with conductor Thomas Adès and soloists in the Barbican Centre, London in 2012.
Artists
Barbara Hannigan (S-solo), Peter Tantsits (T-solo), Joshua Bloom (Bar-solo), Katalin Károlyi (Mez-solo), Hilary Summers (A-solo), Alan Ewing (B-solo), Benjamin Bevan (B-solo), Joshua Hart (speaker), Birmingham Contemporary Music Group, conductor Thomas Adès.