Dzama Stories
CMC's online store has Digital Scores, Printed Scores, Books, & CD's all available to purchase online. The works contained within our Choral Music Catalogues are available to purchase online by licensed download. All orders, both physical and digital take between 5 and 10 business days to be processed. 
Please note that not all scores listed for sale have parts.  Should you require parts (including tape parts) for any of these scores, they are available upon request by contacting our Production Coordinator, Keith Fennell. 
To visit the library by appointment, please see here for details on how to book.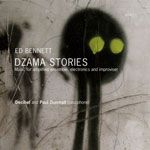 Dzama Stories is a collaboration between the award winning Irish composer Ed Bennett and the legendary British saxophonist Paul Dunmall. Featuring an ensemble of ten exceptional performers, including Decibel, Ed Bennett's composition draws influence from the work of the "outsider" Canadian artist Marcel Dzama. Through the combination of pre-composed and freely improvised sounds, Bennett and Dunmall have created a work of huge energy which spans from the wildly rhythmic, noisy and chaotic to music of great subtlety and quiet reflection.