Dzama Stories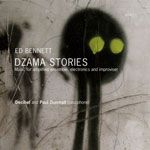 Dzama Stories is a collaboration between the award winning Irish composer Ed Bennett and the legendary British saxophonist Paul Dunmall. Featuring an ensemble of ten exceptional performers, including Decibel, Ed Bennett's composition draws influence from the work of the "outsider" Canadian artist Marcel Dzama. Through the combination of pre-composed and freely improvised sounds, Bennett and Dunmall have created a work of huge energy which spans from the wildly rhythmic, noisy and chaotic to music of great subtlety and quiet reflection.
Artists
Paul Dunmall (sax-solo), Decibel.
Artists
Steve Halfyard (S-solo), tape.