Dividuality
CMC's online store has Digital Scores, Printed Scores, Books, & CD's all available to purchase online. The works contained within our Choral Music Catalogues are available to purchase online by licensed download. All orders, both physical and digital take between 5 and 10 business days to be processed. 
Please note that not all scores listed for sale have parts.  Should you require parts (including tape parts) for any of these scores, they are available upon request by contacting our Production Coordinator, Keith Fennell. 
To visit the library by appointment, please see here for details on how to book.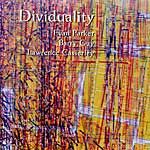 'To take music which is already teeming with detail and alive with entanglement as Parker and Guy's has always been and augment it with the variegated layers added by Casserley may seem absurd or unnecessary, but this Dividuality creates something new and compelling (Declan O'Driscoll, Solaris, 2001)'. This CD features the work and performance of Barry Guy on chamber double bass, Evan Parker on soprano saxophone and Lawrence Casserley using live electronics and sound processing.