Celtic Connections
CMC's online store has Digital Scores, Printed Scores, Books, & CD's all available to purchase online. The works contained within our Choral Music Catalogues are available to purchase online by licensed download. All orders, both physical and digital take between 5 and 10 business days to be processed. 
Please note that not all scores listed for sale have parts.  Should you require parts (including tape parts) for any of these scores, they are available upon request by contacting our Production Coordinator, Keith Fennell. 
To visit the library by appointment, please see here for details on how to book.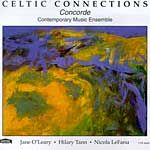 Music of 'passionate energy, rich sonorities and peaceful contemplation' from the leading Irish contemporary ensemble, Concorde. A Celtic connection links composers Jane O'Leary (from New England and living in Ireland), Hilary Tann (from South Wales, living in New York State) and Nicola LeFanu (from an Irish family and living in England).
Artists
Concorde: Madeleine Staunton (fl), Richard O'Donnell (perc).
Artists
Concorde: Alan Smale (vn), David James (vc).