Celtic Connections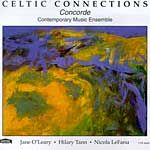 Music of 'passionate energy, rich sonorities and peaceful contemplation' from the leading Irish contemporary ensemble, Concorde. A Celtic connection links composers Jane O'Leary (from New England and living in Ireland), Hilary Tann (from South Wales, living in New York State) and Nicola LeFanu (from an Irish family and living in England).
Artists
Concorde: Madeleine Staunton (fl), Richard O'Donnell (perc).
Artists
Concorde: Alan Smale (vn), David James (vc).