Celtic Connections
Please be aware that due to the ongoing COVID-19 pandemic and the current restrictions on movement, we are unable to fulfil physical orders. We are endeavouring to fulfil score orders digitally and have made available to you a discount coupon "covid19" which you can apply to your order at checkout. Please note that digital scores are subject to availability, please contact kfennell@cmc.ie if you have any queries regarding your order.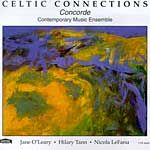 Music of 'passionate energy, rich sonorities and peaceful contemplation' from the leading Irish contemporary ensemble, Concorde. A Celtic connection links composers Jane O'Leary (from New England and living in Ireland), Hilary Tann (from South Wales, living in New York State) and Nicola LeFanu (from an Irish family and living in England).
Artists
Concorde: Madeleine Staunton (fl), Richard O'Donnell (perc).
Artists
Concorde: Alan Smale (vn), David James (vc).