Caitríona Ní Dhubhghaill - Más Luí Dom (10 copy licence)
Please be aware that due to the ongoing COVID-19 pandemic and the current restrictions on movement, we are unable to fulfil physical orders. We are endeavouring to fulfil score orders digitally and have made available to you a discount coupon "covid19" which you can apply to your order at checkout. Please note that digital scores are subject to availability, please contact kfennell@cmc.ie if you have any queries regarding your order.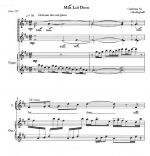 Caitríona Ní Dhubhghaill
PDF score for download and print licence for up to 10 copies of the work.