British Fantasies, American Dreams
Please be aware that due to the ongoing COVID-19 pandemic and the current restrictions on movement, we are unable to fulfil physical orders. We are endeavouring to fulfil score orders digitally and have made available to you a discount coupon "covid19" which you can apply to your order at checkout. Please note that digital scores are subject to availability, please contact kfennell@cmc.ie if you have any queries regarding your order.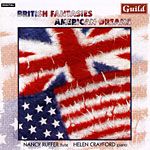 Included in this CD is Ian Wilson's 'Spilliaert's Beach', inspired by Belgian artist Leon Spillaert's painting Moonlit Beach (1908). This is a dark, almost abstract work with a single shining focus. The work is dedicated to flautist Nancy Ruffer who forms part of the duo, along with pianist Helen Crayford that present this compilation of pieces from American and British composers.