British Fantasies, American Dreams
CMC's online store has Digital Scores, Printed" Scores, Books, & CD's all available to purchase online. The works contained within our Choral Music Catalogues are available to purchase online by licensed download.
Owing to Covid19, we are not fulfilling physcial orders of Scores, a digital copy will be provided where available. Please use coupon code covid19 for scores which will be received in digital format. 
Copies of Seachanges and the RIAM curriculum pieces are available in physical format.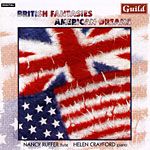 Included in this CD is Ian Wilson's 'Spilliaert's Beach', inspired by Belgian artist Leon Spillaert's painting Moonlit Beach (1908). This is a dark, almost abstract work with a single shining focus. The work is dedicated to flautist Nancy Ruffer who forms part of the duo, along with pianist Helen Crayford that present this compilation of pieces from American and British composers.