British Fantasies, American Dreams
CMC's online store has Digital Scores, Printed Scores, Books, & CD's all available to purchase online. The works contained within our Choral Music Catalogues are available to purchase online by licensed download. All orders, both physical and digital take between 5 and 10 business days to be processed. 
Please note that not all scores listed for sale have parts.  Should you require parts (including tape parts) for any of these scores, they are available upon request by contacting our Production Coordinator, Keith Fennell. 
To visit the library by appointment, please see here for details on how to book.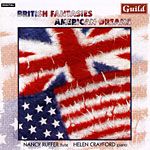 Included in this CD is Ian Wilson's 'Spilliaert's Beach', inspired by Belgian artist Leon Spillaert's painting Moonlit Beach (1908). This is a dark, almost abstract work with a single shining focus. The work is dedicated to flautist Nancy Ruffer who forms part of the duo, along with pianist Helen Crayford that present this compilation of pieces from American and British composers.