Aloys Fleischmann: Orchestral Works
CMC's online shop has Digital Scores, Printed" Scores, Books, & CD's all available to purchase online. The works contained within our Choral Music Catalogues are available to purchase online by licensed download.
"Please be aware that due to the ongoing Covid 19 situation we are currently not fulfilling physical score orders, a digital version will be provided at a discounted cost. Please apply coupon code covid19 at the checkout"(for physical score orders only)
Seachanges and RIAM Piano Syllabus pieces are still available to purchase online as a physical product. The price has been adjusted to include P&P.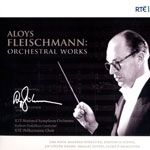 Aloys Fleischmann (1910-1992) was one of the most prominent figures in Irish musical life of the last century. While drawing on the influence of contemporaries like Bartók and Vaughan Williams, his compositions are firmly rooted in the European classical tradition while also revealing an engagement with Irish folk music. This embracing of Gaelic culture is resoundingly evident in the final track on the CD, 'Clare's Dragoons'. Other works featured are 'The Four Masters Overture', 'Sinfonia Votiva' and 'An Cóitín Dearg'.