Aloys Fleischmann: Orchestral Works
CMC's online store has Digital Scores, Printed Scores, Books, & CD's all available to purchase online. The works contained within our Choral Music Catalogues are available to purchase online by licensed download. All orders, both physical and digital take between 5 and 10 business days to be processed. 
Please note that not all scores listed for sale have parts.  Should you require parts (including tape parts) for any of these scores, they are available upon request by contacting our Production Coordinator, Keith Fennell. 
To visit the library by appointment, please see here for details on how to book.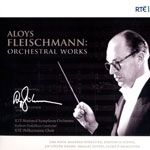 Aloys Fleischmann (1910-1992) was one of the most prominent figures in Irish musical life of the last century. While drawing on the influence of contemporaries like Bartók and Vaughan Williams, his compositions are firmly rooted in the European classical tradition while also revealing an engagement with Irish folk music. This embracing of Gaelic culture is resoundingly evident in the final track on the CD, 'Clare's Dragoons'. Other works featured are 'The Four Masters Overture', 'Sinfonia Votiva' and 'An Cóitín Dearg'.