CMC Announces Newly Represented Associate Composers Éna Brennan and Marco Ramelli
Following the latest application process, with review by an independent panel, The Contemporary Music Centre announces the Associate Representation of composers Éna Brennan and Marco Ramelli.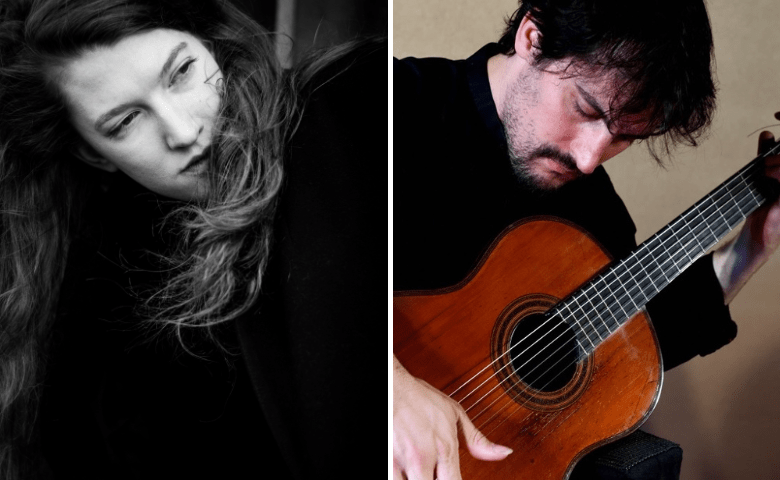 The Contemporary Music Centre is delighted to announce the Associate Representation of composers Éna Brennan and Marco Ramelli. As a CMC Ireland Associate Composer/Artist, artists' works are documented and disseminated as part of CMC's collection. In addition, active promotional support, online promotion and access to professional development opportunities are core benefits for all represented artists/composers. Applications for Artist Representation can be made at any time, with the review and selection process taking place twice annually.
Éna Brennan is a Dublin-based composer, arranger, violinist and graphic designer, originally from Brussels. Since moving to Dublin she has obtained a B.A. in Music and Drama and an MPhil in Composition from Trinity College Dublin, and collaborated with a vast array of artists, weaving in between many of the layers of the Irish music scene. Over the years she has had her work performed by Crash Ensemble, Kirkos Ensemble, RTÉ Concert Orchestra, National Symphony Orchestra, Dulciana Vocal Ensemble, Tonnta Vocal Ensemble, New Dublin Voices and Mornington Singers. Éna's main musical outlet is her experimental solo project Dowry – the violin and electronics at its core. Pre-pandemic she would find herself performing on stage almost weekly, whether it be as Dowry, a session violinist or with her quartet Dowry Strings – notable collaborators include Christian Löffler and Bell X1 with whom she has toured extensively across Ireland and abroad. Her most recent commissions include a micro-opera for the Irish National Opera project '20 Shots of Opera' which has led to her participation in INO's artistic development programme, The ABL Aviation Opera Studio. Recent awards include the Established Composer Award to create a new work in partnership with Sounding the Feminists and the National Concert Hall, the Music Bursary and Agility Award from the Arts Council to create new work as well as funding from the Music Industry Stimulus Package to record her debut album. Future projects include the composition of a new opera to premiere at the Werkstattbühne in 2024 in partnership with the Bregenz Festival and the Kunsthaus Bregenz, Austria.
Introspection is an important element of my writing, often with my own text and the voice driving the music forward. Many if not all of my compositions have been written with specific instrumentalists or singers in mind. I enjoy incorporating an element of freedom and improvisation in my writing to allow for these musicians to bring their own interpretation and musicality to the table. 
Éna Brennan
Born in Milan (Italy), Marco Ramelli is a guitarist, composer, an academic and a lecturer at TU Dublin Conservatoire. Marco has performed in important venues and festivals all over Europe. During his career, he has been awarded various first prizes in international competitions in Italy, Spain, UK, France and Serbia. As a composer, Marco won the "World Guitar Composition Competition", and his music is performed regularly by internationally acclaimed soloists. Marco Ramelli has recorded on the labels Nimbus Alliance, Brilliant Classics, Pilfink records, Naxos, and Dynamic records, including the complete solo guitar music by Federico Mompou and Roberto Gerhard. A keen advocate of contemporary music, Marco commissions and regularly premieres compositions for solo and chamber music. 
His dedication to music is not only confined to his performances; Marco is also Artistic Director of music festivals in Italy, the Czech Republic and Ireland - including the increasingly important Festival Corde d'Autunno in Milan and TouchTheSound Project, Dublin Guitar Symposium. 
Marco obtained a doctorate in performing arts as composer and performer from the University of St Andrews (UK) with a portfolio entitled 'The Composer and the Performer: An Intertwined Relationship'. In 2022, he published a chapter in the book 'Roberto Gerhard: re-appraising a musical visionary' released by Oxford University Press. He is regularly invited to give lecture recitals, workshops and masterclasses at festivals and university worldwide in addition to presenting regularly at international conferences and acting as jury member for competitions.
On his representation at CMC, Marco responded:
Since living in Ireland, I have followed the CMC's beautiful activities. CMC enhances the role of new music in our society and solidifies the bridges between the composers, the community and the musicians. Therefore, I am extremely honoured to have been selected and represented by CMC. I look forward to becoming part of this community and collaborating with other composers, artists and musicians.
Lorenzo Micheli performs "Blue - Homage to van Gogh" by Marco Ramelli
Find out more about the Artist Representation process at CMC