CMC's Ensemble-in-Residence 2020/21 and Culture Night 2020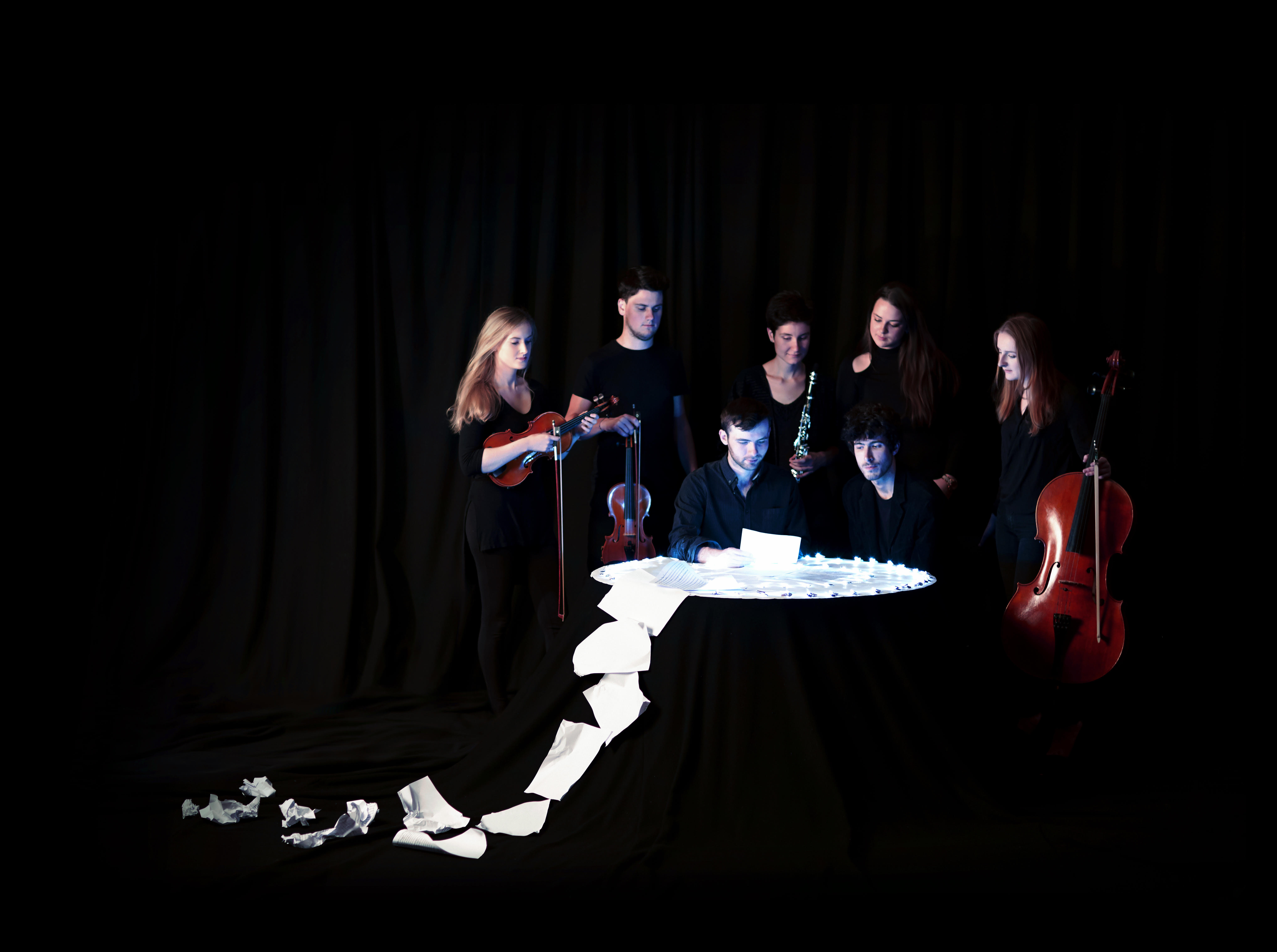 As collaboration is increasingly becoming central to many composers' artistic practice, the theme of Creative Connections was chosen to guide many of CMC's existing programmes, and inform new CMC initiatives, throughout 2020. With a view to developing practice among composers and specialist performers, CMC is currently hosting Kirkos Ensemble as an Ensemble-in-Residence 2020/21. One of the main objectives of the Ensemble-in-Residence is to enable the ensemble to collaborate among themselves, and with other artists both within and beyond their art form, in the development of contemporary music and the creation of new work.
With the support of the CMC team, the Ensemble-in-Residence is developing Creative Connections through a collaborative and engaging series of new works by five early career composers in the Composer Hub project. Sean Ó Dálaigh, Susan Geaney and Darragh Kelly are joined by CMC's 2020 Emerging Composers Áine Mallon and Ultan O'Brien. Áine and Ultan were selected by an independent panel in February 2020 to participate in this bespoke annual programme of professional development for two emerging composers from Ireland.
The Composer Hub project was devised in partnership with Kirkos Ensemble as part of CMC's Ensemble-in-Residence. Each composer participating in this project is being mentored by an established CMC composer requested by them, including Ann Cleare, Donnacha Dennehy, Deirdre Gribbin, Karen Power and Jennifer Walshe. The participating composers have also been collaborating across a number of months with the Kirkos players, and their Artistic Director Sebastian Adams, in the development of new works in a series of workshops and recordings with a view to a live performance of the completed works, Covid restrictions permitting.
For Culture Night 2020, CMC will present an evening of online features filmed at the Composer Hub workshops held in late August / early September, through which audiences will have an opportunity to see 'behind the scenes' and witness how new works of music are created. The workshopping of the participating composers' works will be featured in a series of episodes that will be released online by CMC throughout the night on Culture Night 2020, the schedule for which will be published on CMC's website and posted on CMC's social media channels. These online features will also include contributions from participating composers about their works and their personal experience of the collaborative aspect of this partnership project between CMC and Kirkos Ensemble. CMC's Culture Night programme will culminate in a panel discussion with a selection of the mentor composers led by CMC Director Evonne Ferguson.
CMC's Ensemble-in-Residence is an initiative supported by the Dublin City Council Arts Grants. Kirkos Ensemble is in receipt of an Arts Grant from the Arts Council of Ireland for this Ensemble-in-Residence project, and its participation in the Composer Hub project is also supported by IMRO Ireland.