Launch of 'Sempiternam' an album of choral music by Rhona Clarke at the Contemporary Music Centre
'Sempiternam' an album of choral music by Rhona Clarke, recorded by State Choir Latvija conducted by Māris Sirmais, was launched by Artistic Director of the Irish National Opera, Fergus Sheil at the Contemporary Music Centre last Thursday, 24 March.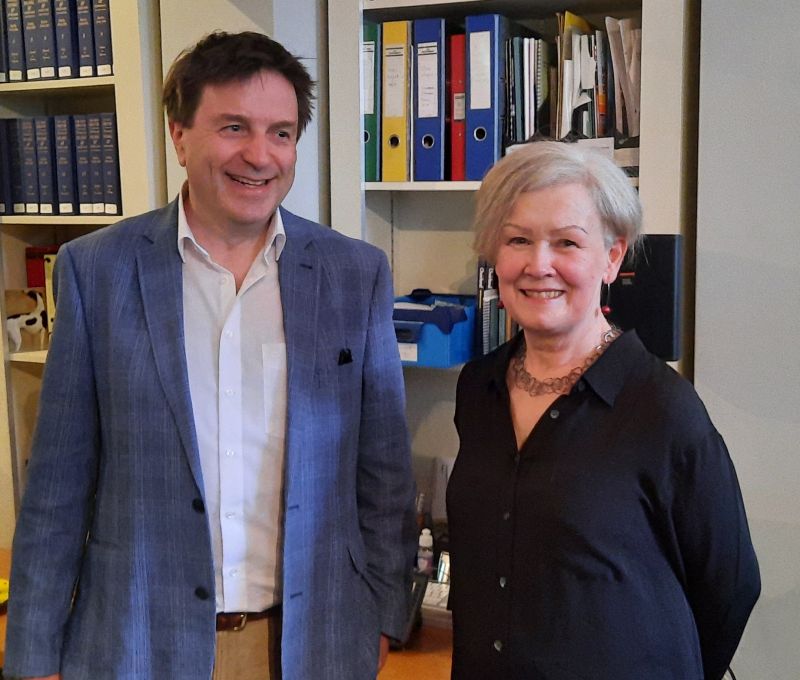 CMC Director Evonne Ferguson welcomed friends and colleagues to the CMC Library as the State Choir Latvija recording of the Pie Jesu from Rhona Clarke's Requiem (2020), featured on 'Sempiternam', rang out from Fishamble Street. Launching the event was Artistic Director of the Irish National Opera Fergus Sheil (pictured above, left) who commented:
I'd like to congratulate Rhona Clarke on the terrific achievement of the release of her choral CD with State Choir Latvija. Rhona's choral compositions combine a really profound understanding of the sonic possibilities of choral music, she has a great sense of how melody works in the human voice, an engaging rhythmic drive and a mastery of dissonance and resolution that keeps you engaged throughout. She makes dissonance sound beautiful. Her recent works including the Requiem of 2020 demonstrate a confidence and a mastery that suggest there is lots more to come. I can't wait for Volume 2.
'Sempiternam' includes choral works spanning 30 years of composing including Song for St Cecilia's Day (1991) which was commissioned by Caintairí Avondale and their Director at the time, Mary O'Flynn (pictured below, left) who attended the launch on Thursday.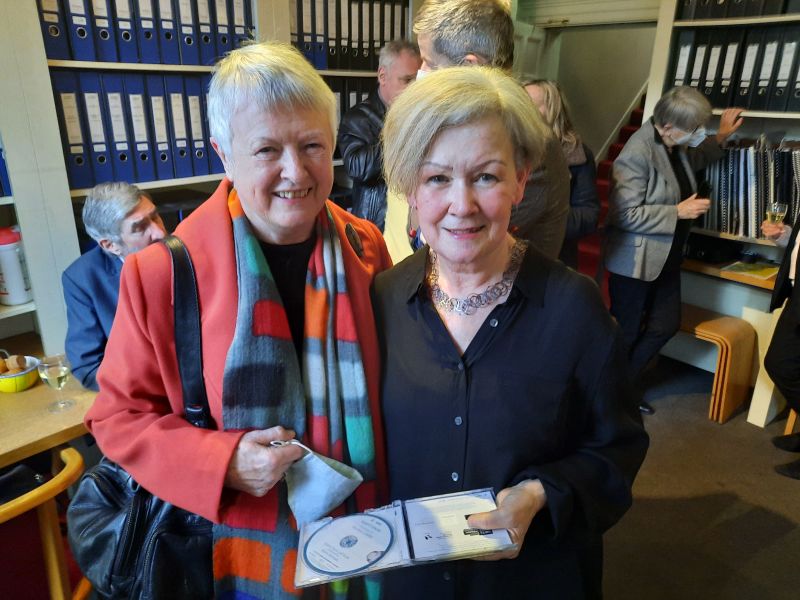 Composer Rhona Clarke also spoke at the event and particularly highlighted the quality of the State Choir Latvija:
The CD was a long time in the planning and I am just so grateful to all concerned that it is finally 'out there'.
It was a dream to work with State Choir Latvija who have such a warm and beautiful sound – they are truly outstanding.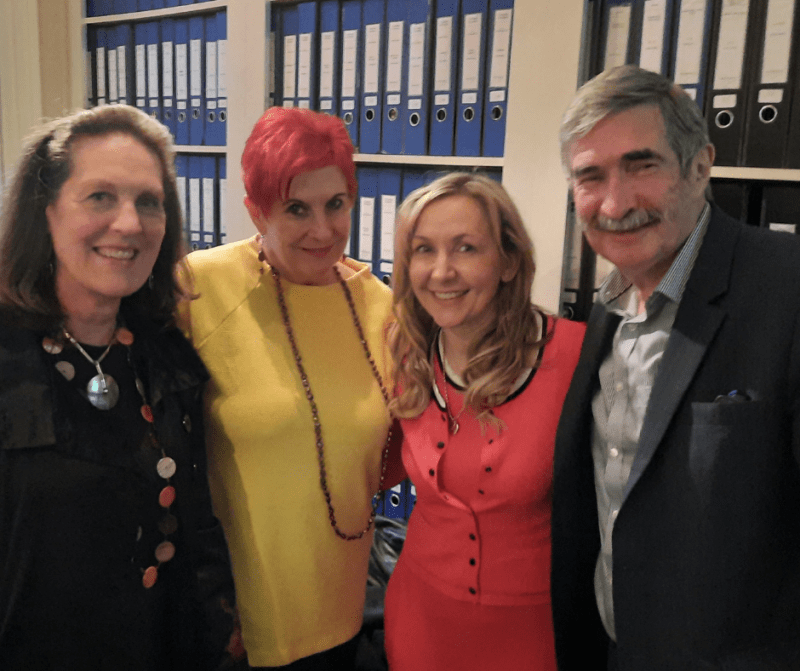 Pictured: CMC Projects, programmes & Events Manager Linda O'Shea Farren, Aylish Kerrigan, Professor Lorraine Byrne Bodley & CMC Composer John Buckley.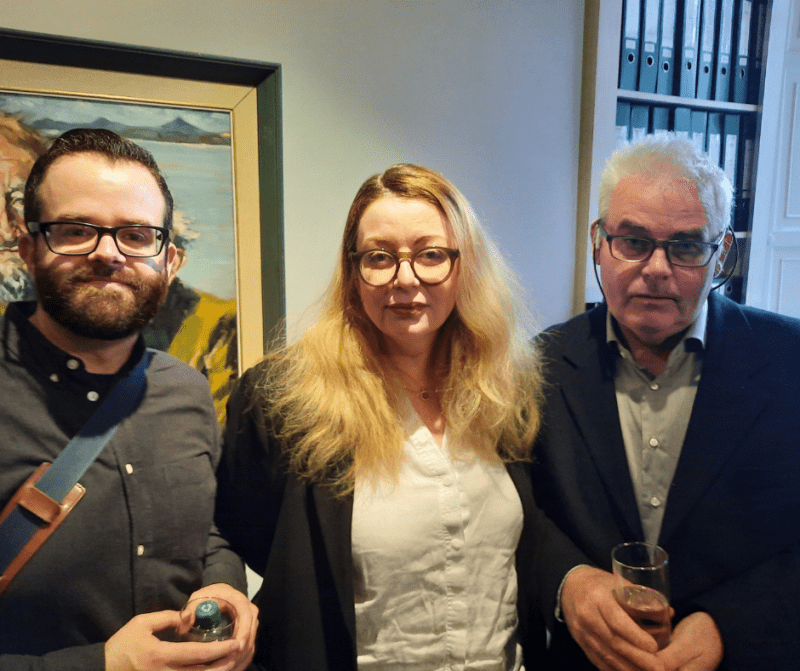 Pictured: CMC Composer David Coonan, Artistic Director of Solstice Arts Centre Belinda Quirke with Peter Austin.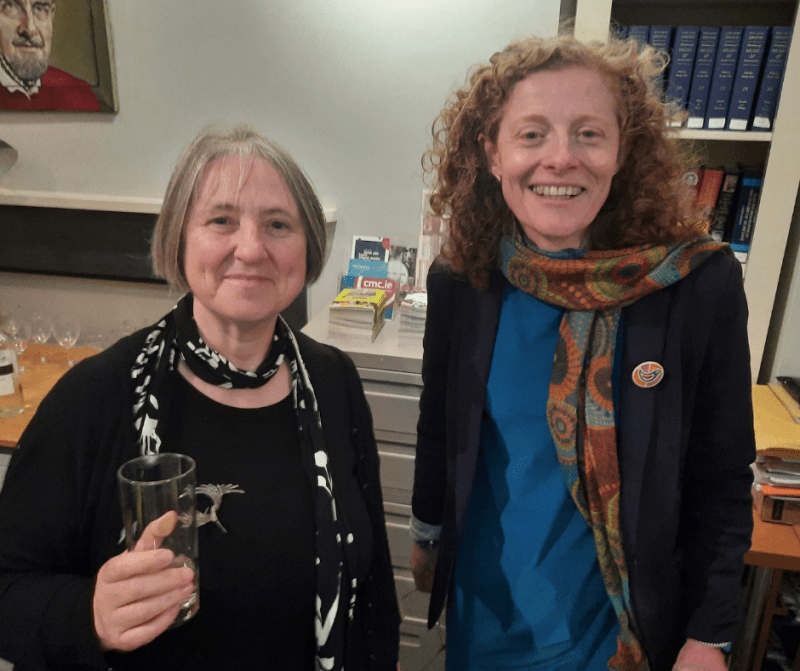 Pictured: Dr. Patricia Flynn of Music @ DCU and New Music Dublin Board with CMC Director Evonne Ferguson.
'Sempiternam' was released by Divine Art Recordings Group, on the Métier Records label and is available via the CMC shop.
Rhona Clarke speaks to CMC's Jonathan Grimes for episode #64 of amplify, offering further insights into the development of this album.