CMC Digitisation Project report - Dr Anja Bunzel
Thu 18 Oct 2018
Dr Anja Bunzel reports on her experiences of working on a project to digitise a collection of CMC's scores. The project was recently completed thanks to funding from the Department of the Arts, Heritage, Regional, Rural and Gaeltacht Affairs/Creative Ireland 2018 Cultural Digitisation Scheme. Read about some of the background to the project here.
Originally a musicologist with a focus on nineteenth-century German song, this digitisation project enabled me to catch a glimpse at some Irish twentieth-century art music. I digitised a total of 115 scores which added up to just under 7,000 pages and which covered a range of genres including short piano and flute miniatures, violin pieces, brass and string quintets, military fanfares, symphonies, concerti, works for tape recording and accompaniment, and operas. I was amazed by the composers' creativity in finding charming, exciting, and/or thoughtful work titles and visual ways of representing the music, as conventional musical notation did not suffice in some of the scores, and at the time of writing Sibelius or Finale notation software were not commonly used among the composers. For example, Gráinne Mulvey, in her 1994 composition Yerma, notates quarter tones by way of symbols outlined on the score's first page.

First page of Gráinne Mulvey, Yerma
Another aspect that struck me is a noticeable shortage of Irish-language work titles and libretti/lyrics. Many of the works I digitised were premiered in Ireland during the last few decades of the twentieth century, and some of them were commissioned by Irish ensembles or orchestras. Yet most of them are in English. Although this phenomenon is not surprising, considering Ireland's complex history and relationship with Anglophone culture(s), it is worth noting that the Irish language featured as numerously (or as rarely!) as, for instance, French, Latin, or German.
However, it would be wrong to conclude that late-twentieth-century Irish composers generally distanced themselves from Irish paradigms, both aesthetically and culturally. For instance, Séoirse Bodley, in the introduction to his piano piece Aislingí (1977), explains how he conceived the 'Aisling' to be a new genre, a 'visionary Irish musical piece'. Furthermore, some other compositions elaborate on Irish musical idioms, for example Frederick May's Suite of Irish Airs (1953), or Frank Corcoran's Irische Szenen (Irish Scenes, 1988).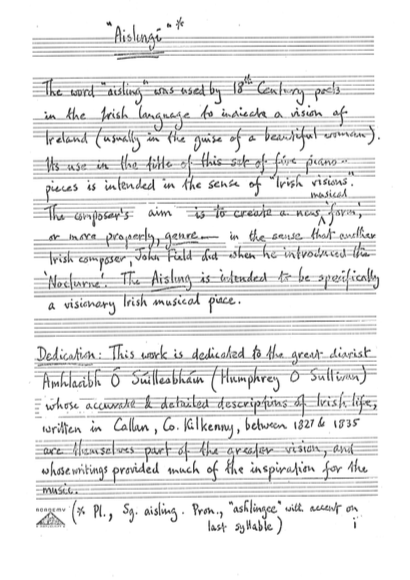 First page of Séoirse Bodley, Aislingí
A mixed flavour of internationality and Irish identity can also be sensed in the performance backgrounds of some of the late-twentieth-century works by Irish composers. As part of this project, I digitised a number of ephemera which are currently held or on loan at CMC. All these concert and festival programmes, posters, and libretti document a large interest in and enthusiasm for Irish and international contemporary music both in Ireland and abroad (for instance in Denmark, Germany, Sweden, and the UK). Of all ephemera it is the libretto of James Wilson's Grinning at the Devil to words by Elsa Gress which caught my immediate attention, as it features many beautiful illustrations in both colour and black/white.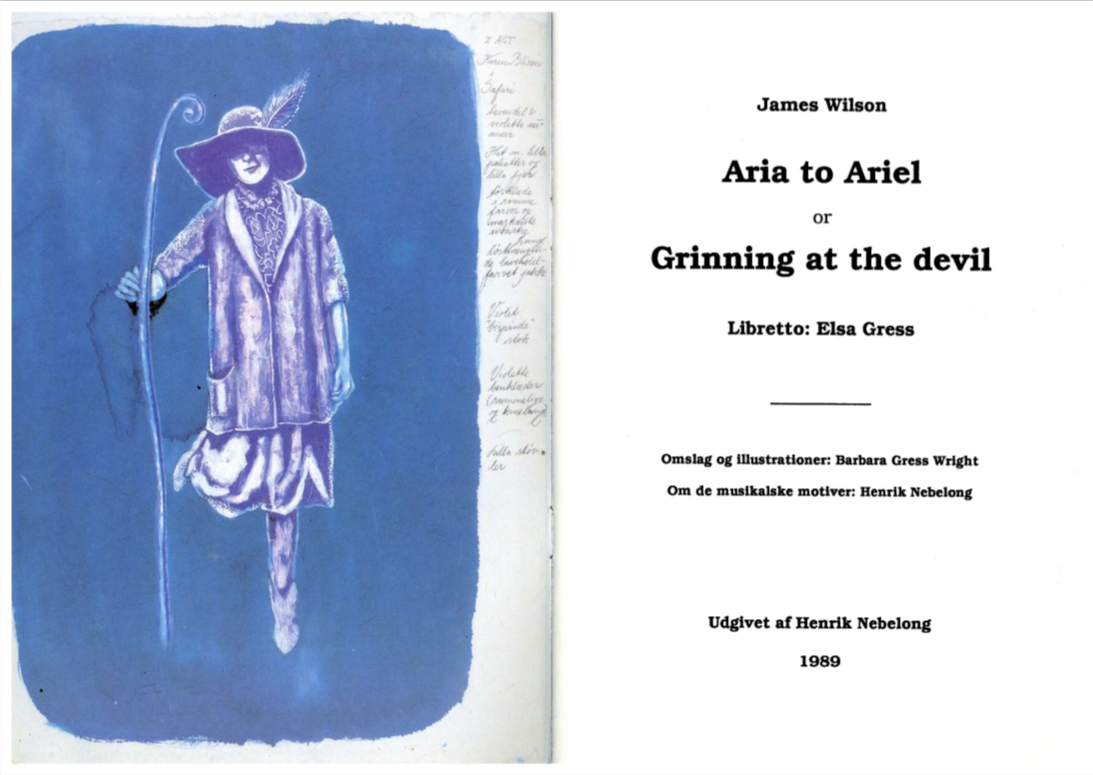 Excerpt from libretto of James Wilson, Grinning of the Devil, booklet compiled by Henrik Nebelong
In terms of demographics, it is perhaps characteristic of the time that most conductors and composers featured in those ephemera were male. On the other hand, the quite even balance between male and female performers alludes to women's impact on the contemporary musical landscape. As an aside, of all 115 scores I scanned fourteen were composed by women (featuring five different individuals); the remaining 101 compositions originated from twenty male composers. More than 270 composers are currently registered with CMC, but, of course, not all of them met the selection criteria for this digitisation project.
It is not my aim to comment on composer opportunities in Ireland in the second half of the twentieth century, or, indeed, on archival matters, as the small selection of scores I came across is most likely not a representative sample. Rather, I hope to encourage more people to engage with Irish contemporary music: CMC's archive is home to many works which have not yet received the deserved attention by musicologists and/or performers. Perhaps this digitisation project will help to enable easy access to some of these works.
Anja Bunzel gained a PhD in Musicology from Maynooth University in 2017 where she was an IRC Postdoctoral Fellow from 2017 to 2018. She is co-editor of Musical Salon Culture in the Long Nineteenth Century (Boydell & Brewer, 2019), and she is currently preparing a monograph on Johanna Kinkel's art songs (also with Boydell & Brewer).