Kirkos Ensemble present 'Speaking of Music'
Royal Irish Academy of Music (RIAM)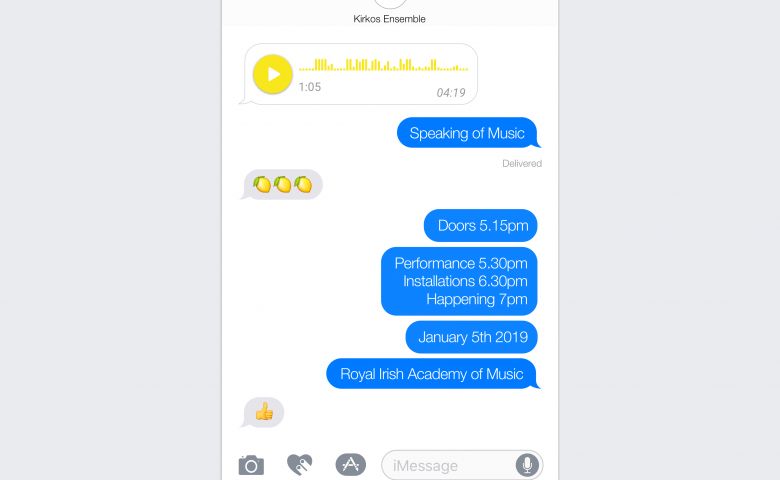 Specially commissioned for Speaking of Music, the centre piece will be 'Listening to Stories' by Jenn Kirby.
'Listening to Stories' explores the themes of theatre, silliness and humour in music as a superficial way to 
address a more serious theme of inequality and silent voices; attempting to listen to unheard stories. Many 
other world and Irish premieres will join the new commission.
Those contributing to the evening include composer Jenn Kirby, Sydney-based composer performer Solly 
Frank, experimental musician Andy Ingamells, composers Sebastian Adams, Susan Geaney & Robert 
Coleman, and more to be announced.
The evening runs as follows:
5.15pm ж Doors
5.30pm ж Andy Ingamells performs his work Piano Recital.
6.30pm ж Installations including Sebastian Adams' Beethoven Freeze, & Susan Geaney's Drips.
7pm ж Happening featuring Jenn Kirby's
Listening to Stories
, Solly Frank's
USER REVIEW #91137125(self portrait 2017)
, Lucie Vitkova's
Soft Songs
, Ben Patterson's
Pond
, Hugo Morales Murguia
Trio for disposable reeds
, & Andy Ingamell's A performance is never rehearsed, a performance is never repeated.
Plus more additions to come!
Tickets €7 [student] ж €10 [regular]