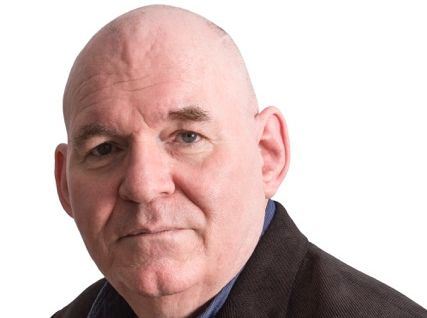 Belfast born composer Stephen McNeff grew up in South Wales and studied at the Royal 
Academy of Music in London. His career started by working in theatres throughout 
Britain, followed by a period in Canada as composer-in-residence at the Banff Centre. 
McNeff's name became known for his film noir operatic version of The Wasteland (1994),
 his many scores for the Unicorn Theatre, and also with wind orchestras for the very 
popular Ghosts (2001). His reputation grew from the première in 2004 at the Royal Opera House Linbury 
Theatre of his opera for young people Clockwork (based on Philip Pullman's book), and 
his appointment the following year to the Bournemouth Symphony Orchestra as the first 
Royal Philharmonic Society 'Composer in the House'.
Theatrical work continued with the operas
Gentle Giant
(2007), for the Royal Opera, and 
Tarka (2005-6), which won the British Composer Award for Best Stage Work in 2007. 
The Chalk Legend, composed for the Bournemouth Symphony Orchestra to mark the 
2012 Cultural Olympiad premiered in Dorset and London. Also in 2012 his opera, The 
Secret Garden (1985, revised 2012) was seen in a critically praised new production in 
London and at the Banff Festival in Canada.
Other works from this period include
ConcertO Duo
, premiered by the BBC Symphony 
Orchestra (2010), and Seven for a Secret (based on the music of Ravel) for Rambert 
Dance (2011). 2014 saw concertos for flute and oboe in London and at the Presteigne 
Festival in Wales where he was featured composer. In 2016 A Half Darkness for 
Chamber Choir Ireland was premiered in Cork, Dublin and the North of Ireland, and 
Eden Rock - a BBC Radio 3 commission for tenor Mark Padmore and guitarist Morgan 
Szymanski – was heard at London's Wigmore Hall. 
His opera Banished was premiered in 2016, while in 2017 his film opera for Welsh 
National Opera and Welsh TV, Hedd Wyn, completed recording. In November 2017 The 
Burning Boy (an opera for professionals and the community) was premiered in Cornwall 
by the BSO.
Future plans include a new opera Beyond the Garden (with a libretto by Dublin poet, 
Aoife Mannix) to be premiered in 2020, and a new choral work for the BBC Singers. 
Stephen McNeff is on the composition staff at Guildhall School of Music and Drama in 
London where he works with composers on the MA in Opera Making. He is also a 
visiting lecturer at a number of other academic institutions including The Royal Irish 
Academy of Music, the Royal Northern 
College of Music, and the Academy of Music at the 
University of Ljubljana in Slovenia.