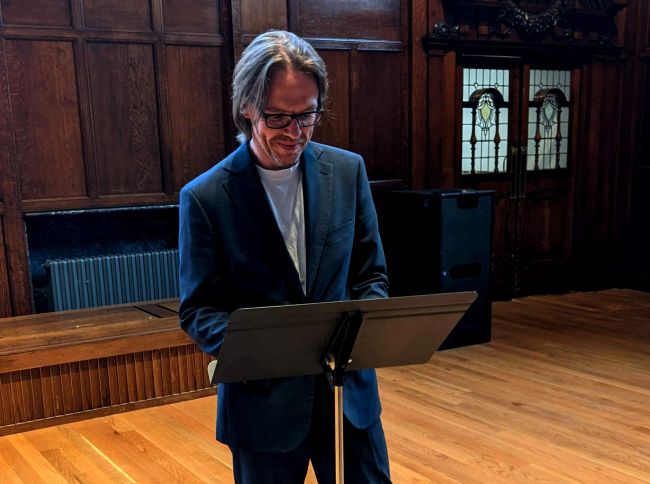 Dr Matthew Rowan is a composer and lyricist from Belfast.
At home in both the Popular music and Classical music worlds, Northern Irish composer and lyricist Dr Matthew Rowan submitted winning entries to the John Armitage Memorial, the Red Note Ensemble, the Kate Halsall Maché and the Peter Rosser Composition Award competitions, and was awarded AHRC-funded commissions for the Northumbrian Exchanges project and the Society for French Studies 64th Annual Conference. He is currently working on a commission funded by the Catherine Cookson Trust. His compositions have received performances in the UK, Europe and the USA, most notably by: Lina Andonovska, Yichen Cai, Duodort, Mak Grgić, Hard Rain Soloist Ensemble, Christoph Jäggin, Katabatic Winds, William Lane, Loré Lixenberg, Momenta Quartet (with Miranda Cuckson), Mr. McFall's Chamber featuring Taylor Wilson, Northern Early Music Collective, Onyx Brass, Royal Northern Sinfonia and Jacqueline Shave. Moreover, Kate Halsall, Mr. McFall's Chamber and Northern Early Music Collective have recorded his works for commercial release. Matthew holds a PhD in Contemporary Composition (2009). To complement his work as a creative artist, he taught composition for fourteen years at The International Centre for Music Studies and was music studies editor for the inaugural issue of online cultural journal E-pisteme. Matthew is represented by the Contemporary Music Centre, Ireland and he is a member of PRS for Music.
CONTACT
matthewrowancomposer [at] gmail [dot] com
Biography: Copyright © M.W. Rowan, 2023.