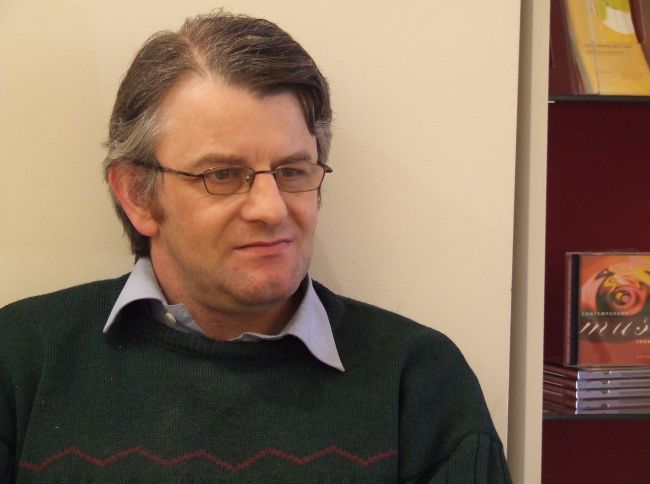 "Music is life and, like life, inextinguishable." (Nielsen) "If it were possible, if a musical work could be described precisely in words, then music as an art would be entirely unnecessary." (Lutoslawski) To these quotations, I will add one thought of my own: music is a language of communication. What it communicates is, quite simply, itself.
Born in Dublin, Martin O'Leary began composing at the age of fourteen. He studied music at Trinity College, from where he holds a PhD for an extended study of three orchestral works of the English composer Havergal Brian. Since 1991 he has lectured at NUI Maynooth, where he became a full time member of staff in the Department of Music in 1993.
He has written an extensive series of works covering most genres, and his compositions have been heard throughout Europe, as well as in Israel and the USA. "Glory to His Name", a CD of arrangements for a capella choir, was released on Ceol Records in 2003. His more recent works include "Bluescape" (2007) for piano trio, written for the Fidelio Trio, two solo guitar works, "6 Preludes" (2005) and "Fantasia Elegiaca" (2007), written for Leslie Cassidy and Christian Fergo, "Blue Toccata" (2011), commissioned for the 2012 AXA Dublin International Piano Competition, "Avanti" (2012), written for the Muzika Piano Trio of Kenosha, Wisconsin, and "Luireach Phadraig" (2015), written for the Maynooth Chamber Choir and director Michael Dawson.
Martin O'Leary performs regularly in solo repertoire and chamber works as a pianist, and has premiered works by John Buckley, John Casken, Rhona Clarke, John McLachlan, Peter Michael Hamel, Paul Hayes and Kevin O'Connell. He is a committee member of the Association of Irish Composers and a director of the Irish Composition Summer School.
Contemporary Music Centre, Ireland