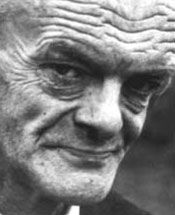 It is doubtful if any nation with such a wonderful storehouse of traditional music has made such a negligible contribution to art music as we have, and it is high time we set about redressing the balance.
Frederick May was born in Dublin and began his studies at the Royal Irish Academy of Music with John Larchet. After gaining a MusB degree at Trinity College Dublin in 1931, he continued his studies at the Royal College of Music in London with Gordon Jacob and Ralph Vaughan Williams. In 1933 he was awarded a scholarship which enabled him to travel to Vienna, where he studied with Egon Wellesz.
Unlike many of his contemporaries, May's music is distinctly European in flavour. Although his output was small, his works include the Scherzo for Orchestra (1933), Songs from Prison (1941) for baritone and orchestra and, perhaps his finest work, the String Quartet in C Minor which he wrote on his return to Dublin in 1936. He held the post of Music Director at the Abbey Theatre, Dublin, for fifteen years and wrote incidental music for several plays. His String Quartet, performed by the RTÉ Vanbrugh Quartet, was released on CD by Naxos/Marco Polo in 1996.
Contemporary Music Centre, Ireland