CMC Perpetual Trophy: Cork International Choral Festival
Deadline:
30 November 2018 17:00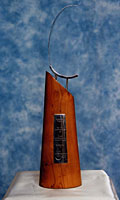 The Contemporary Music Centre's perpetual trophy is awarded annually at the Cork International Choral Festival for the best performance of an original choral work by an Irish composer written after 1975. The elegant modern trophy in silver and wood was specially commissioned from young Irish silversmith Annette Lappin. The festival takes place in April/May with a closing date normally in January of the same year. The competition is open to choirs from the Republic of Ireland and Northern Ireland.
PERPETUAL TROPHY FOR THE PERFORMANCE OF IRISH CONTEMPORARY CHORAL MUSIC
Donated by Contemporary Music Centre, Ireland. Special Award for the performance of an original choral work by a composer represented by the CMC. Works must be written after 1975 and from the library of the Contemporary Music Centre.
Choirs are directed to the following resources:

A. The CMC Choral Catalogues series includes Children's
and Female Voices Repertoire, Mixed Choir Repertoire
and Christmas Repertoire. All the works have been
selected by specialist curators and graded with a
comprehensive set of guidelines. The catalogues can
be accessed here: www.cmc.ie/resources/performerresources
B. These graded catalogues are a useful starting point in
selecting repertoire, but please note that any choral
works held in CMC library are eligible. Sample pages
are also available for a selection of choral works at
www.cmc.ie/music. In addition Library Coordinator
Susan Brodigan will be pleased to assist choirs in their
choice. Email: sbrodigan@cmc.ie. Scores may be
purchased directly from the Centre or online through
www.cmc.ie/shop.

C. Scores featured in the CMC Choral Catalogues are now
available for purchase via licensed download via the
CMC website. A guide designed to 'walk you through'
the licensed download process is available on our
website: www.cmc.ie/news/170517/cmcs-choralcatalogues-available-purchase-licensed...

D. Choirland: An Anthology of Irish Choral Music, is a collection of
15 pieces by Irish composers for unaccompanied
mixed choir. Published by the CMC, the collection has
been produced in partnership with the Association of
Irish Choirs (AOIC) and Chamber Choir Ireland (CCI)
with funding from The Arts Council/An Chomhairle
Ealaíon. Each piece is presented with performance
notes designed to aid conductors and singers alike,
and the book includes a CD recording of the music by
Chamber Choir Ireland conducted by its Artistic
Director Paul Hillier. Choirland is available to purchase
from CMC's Online Shop and direct from the Centre, and a selection of scores are available to purchase by licensed download.https://www.cmc.ie/choirland#downloads