CMC Library Week: Brian Boydell centenary year
Curious about Contemporary Music from Ireland?
Explore the contribution composer Brian Boydell made to Irish society throughout his career.
2017 marked the 100 year anniversary of composer Brian Boydell's birth. One of Ireland's major 20th century composers, Brian Boydell was a prolific composer and was also active as a musicologist, broadcaster, performer, adjudicator, and public lecturer throughout his career. This centenary was marked with a celebratory conference in Trinity College Dublin to evaluate Boydell's contribution to Irish music, academic and artistic societies.
Listen to musicologist Barra Boydell speak about the centenary conference and the life and work of his father.
Boydell in his own words
Brian Boydell was a leading figure in Irish music life, and gave many interviews and talks throughout his career. Listen to the composer in his own words in a number of extracted programmes here. These are made available with permission from RTÉ Archives, and CMC is very grateful for RTÉ's support.
Boydell's influence on other composers
Composer Martin O'Leary writes here about the impact Brian Boydell had on him as a composer, and about some of his favourite Boydell compositions.
Boydell Concert Programmes
CMC holds a large selection of concert programmes in its archive, dating back to performances from 1960s. Examine a sample selection of concert programmes from Brian Boydell's career
here
.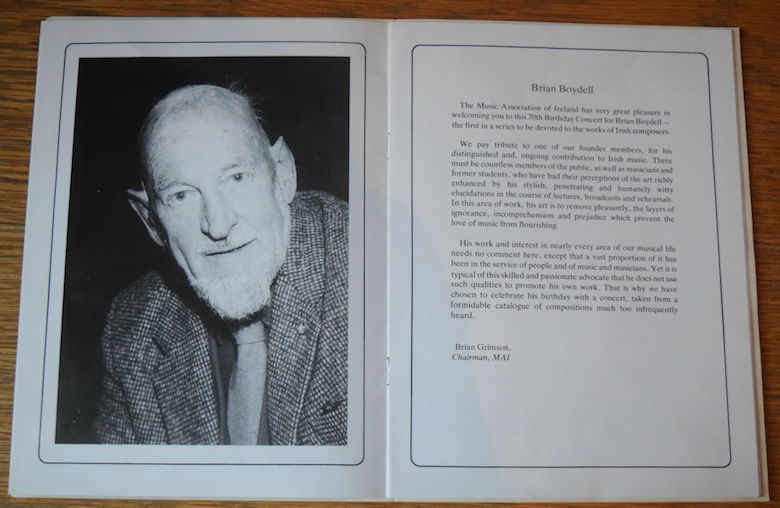 Read more about Brian Boydell, view sample pages of his works and listen to extracts of his compositions here.
Researchers, musicians and anyone interested in finding out more about Brian Boydell are welcome to visit CMC's library in 19 Fishamble Street to investigate the composer in our archives.