Choirland: An Anthology of Irish Choral Music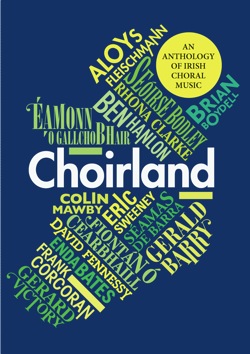 Minister of State for the Gaeltacht Dinny McGinley launched a new collection of Irish choral music at the Arts Council on 18 October 2012.
The publication, Choirland: An Anthology of Irish Choral Music, is a collection of 15 pieces by Irish composers for unaccompanied mixed choir. Published by the Contemporary Music Centre (CMC), the collection has been produced in partnership with the Association of Irish Choirs (AOIC) and the National Chamber Choir of Ireland (NCC) with funding from The Arts Council/An Chomairle Ealaíon.
The anthology marks the Arts Council's 60th anniversary in 2011 and grew directly out of the Arts Council's commitment to supporting the publication and recording of Irish choral music as articulated in Raising Your Voice, a report published by the Arts Council in 2008.
The music ranges in difficulty from the simple to perform, to the more challenging. From arrangements of traditional melodies, new settings of familiar texts and strikingly original works, the selection encompasses a wide array of styles, which illustrate the diversity and vibrancy of Irish choral music. Each piece is presented with performance notes designed to aid conductors and singers alike, and the book includes a CD recording of the music by the National Chamber Choir of Ireland conducted by its Artistic Director Paul Hillier.
Choirland is available to purchase from CMC's Online Shop and direct from the Centre.
Contents:
Gerald Barry (b.1952) - Long time (2011)
Enda Bates (b.1979) - Pauper's Lament (2010)
Seóirse Bodley (b.1933) - I will walk with my love (1981)
Brian Boydell (1917–2000) - Come Sleep (1964)
Rhona Clarke (b.1958) - Regina Coeli (from Two Marian Anthems) (2007)
Frank Corcoran (b.1944) - Caoine (1975)
Séamas De Barra (b.1955) - Ave Maria (1985)
David Fennessy (b.1976) - chOirland (2002)
Aloys Fleischmann (1910–1922) - Na Trí Captaení Loinge (1956)
Ben Hanlon (b.1952) - Molaimis go léir an tAon-Mhac Críost (2008)
Colin Mawby (b.1936) - Alleluia, Christus Resurrexit (1986)
Fiontán Ó Cearbhaill (1922–1981) - Suantraí ár Slánaitheora (1979)
Éamonn Ó Gallchobhair (1900–1982) - An Teitheadh go hÉigipt (1975)
Eric Sweeney (b.1948) - There is no rose (1981)
Gerard Victory (1921–1995) - Sliabh Geal gCua (1982)
Performance notes by Anne Barry and Alan Leech.
CD recording by the National Chamber Choir of Ireland, conductor Paul Hillier.
View an interview recorded at the launch with Evonne Ferguson, CMC Director, and Majella Hollywood, CEO of the NCC about the publication.
[vimeo http://www.vimeo.com/51745096 w=400&h=300]
Photos from the launch
| | |
| --- | --- |
| | |
| CMC Director Evonne Ferguson | Arts Council Director, Orlaith McBride |
| | |
| Seoirse Bodley, composer and Evonne Ferguson, CMC | The National Chamber Choir of Ireland |
More photos from the launch are available on our Flickr Account