New Digital Release "Brian Boydell: Mosaics & Sketches" by Clíona Doris - free to listen & download
"Brian Boydell: Mosaics & Sketches" recorded by harpist Clíona Doris has been released as a digital album, free to listen and download from Bandcamp and Soundcloud.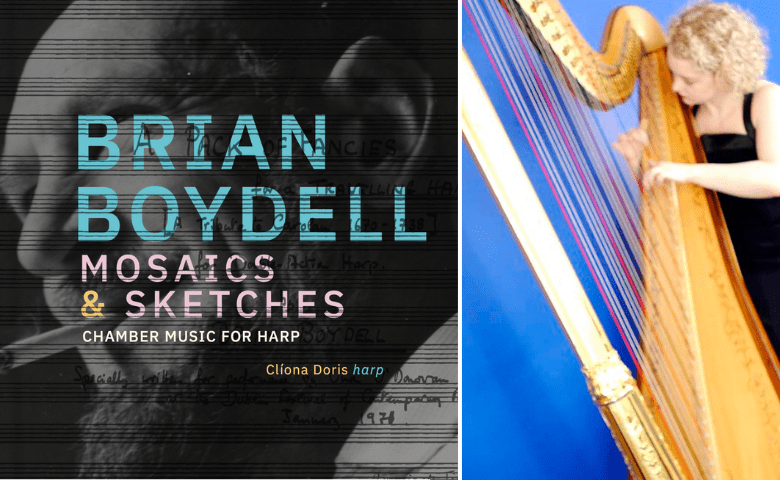 "Mosaics and Sketches" explores the composer Brian Boydell's chamber music for harp written over two decades, 1960-1980. In this recording, Clíona Doris performs Boydell's solo work for pedal harp, A Pack of Fancies for a Travelling Harper and is joined by TU Dublin Conservatoire colleagues in three chamber works: Four Sketches for Two Irish Harps, Five Mosaics for Violin and Harp, and Quintet for Flute, Harp and String Trio.
The album features performers Clíona Doris (concert harp, Irish harp), Denise Kelly McDonnell (Irish harp), Ciaran O'Connell (flute), David O'Doherty (violin), Andreea Banciu (viola) and Margaret Doris ('cello). 
"Brian Boydell: Mosaics & Sketches" was funded through a research grant from Technological University Dublin and in keeping with the University's Open Research ethos, the recording has been made publicly available through a Creative Commons Attribution Non-Commercial Share Alike 4.0 International Licence. This recording has also been supported by RTÉ lyric fm and the Contemporary Music Centre.
Recording booklet notes written by Clíona Doris are available to download free as a pdf - 

recording_booklet_for_boydell-mosaics_and_sketches.pdf