The next Free State concert from the Crash ensemble presents new music by Irish composers.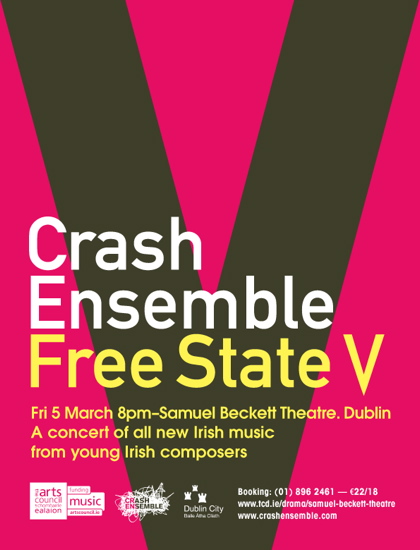 Taking place at the Samuel Beckett Theatre, Trinity College Dublin, the concert features new works by Ed Bennett, Ann Cleare, Enda Bates, Scott McLaughlin, David Fennessy, Gráinne Mulvey and Ben Schlepper Connolly.
Related video: John Godfrey and Frances Mitchell of the Crash ensemble talking about the Free State series.
FREE STATE V:  Friday 5th March, 2010 | Beckett Theatre, Trinity College, Dublin 2 | 8pm | Tickets €22/€18(conc.) available online or from the Beckett Theatre Box Office: (01) 896 2461.
Further information: Crash Ensemble
Frances Mitchell (01) 858 6645 | admin@crashensemble.com
Claire Layton (01) 8586645 | info@crashensemble.com