Catching Up with Aoife Kavanagh - CMC Emerging Composer 2022

In December 2021, CMC was delighted to announce Aoife Kavanagh and Paul Scully as CMC Emerging Composers for 2022. Just over halfway through the programme, Aoife Kavanagh shares her experience so far - and some plans for the future!
CMC: Tell us about some of the projects you have been working on since being awarded the 2022 CMC Emerging Composer scheme.
Aoife Kavanagh:
Since January, I have composed the music for two full-length dance productions, one for aerial dance company Infinite Pants ('Nasc', January 2022, Roscommon Arts Centre), and one for Roisin Whelan Dance ('Man Down', February 2022, VISUAL Carlow and Backstage Longford). 

At the moment, I'm putting the finishing touches on the music for a new ballet with Roisin Whelan Dance and Ballet Ireland (details to be announced soon) and I'm also working with aerialist Aisling Ní Cheallaigh on her new solo which will premiere in July at the Irish Aerial Dance Festival.

I also designed the sound for a theatre production of 'Julius Caesar' with director Aoife Spillane-Hinks and the BA Drama graduate class at TU Dublin (May 2022, Black Box Grangegorman)

 I was paired with bass-baritone Kevin Neville through the CMC Colleagues initiative and we have been applying for funding to make some new music together. I recently received an Artlinks grant to create a new piece this coming summer with Kevin and pianist Ailbhe Kehoe, for voice, piano and electronics.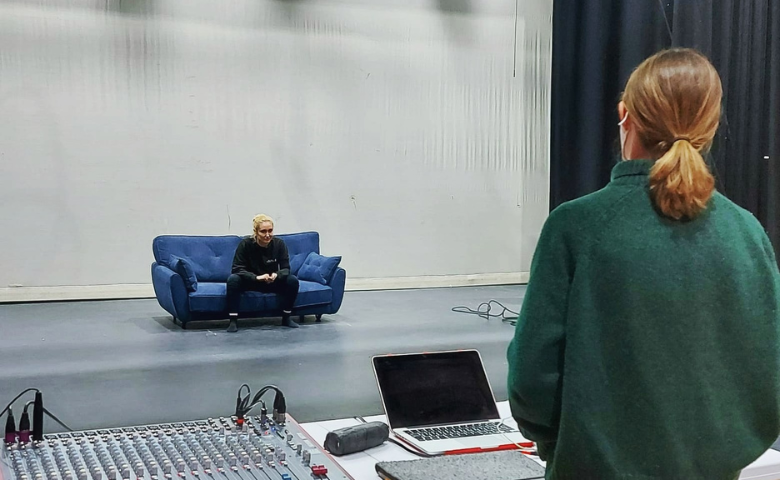 Collaborating with aerialist Aisling Ní Cheallaigh. Photo courtesy of Aoife Kavanagh.
CMC: As part of this scheme, CMC Emerging Composers are supported through an individualised programme which may include mentorship, training, networking, commission opportunities, and other supports such as travel aid. So far, how has this scheme been of benefit to your own professional development?
Aoife:
CMC has provided me with Logic Pro training with Conor O'Boyle. This is the program which I do most of my composing and mixing in, especially for dance productions, and the individual training has improved my workflow and music production skills.

I got to attend NMDX [New Music Dublin eXchange - CMC's international networking programme embedded in the New Music Dublin festival, to which representatives of some of the most significant national and international contemporary music festivals, venues, programmers, promoters and broadcasters are invited] where I met lots of other composers, festival directors and other players in the music industry. I also got tickets from CMC to attend some of the concerts at New Music Dublin, which was amazing!

CMC has been very good in writing support letters for my funding applications, and I think their support definitely contributed to my success in getting awarded the Artlinks bursary.
CMC: Any personal highlights from your participation in the CMC Emerging Composer scheme so far?
Aoife:
For me, NMDX was a definite highlight! I am normally not a fan of networking but this was such a well organised and rewarding experience. It was lovely to meet so many other composers and music industry professionals and make new connections. It also gave me a good insight into the different opportunities available to have your music programmed at festivals, on the radio etc.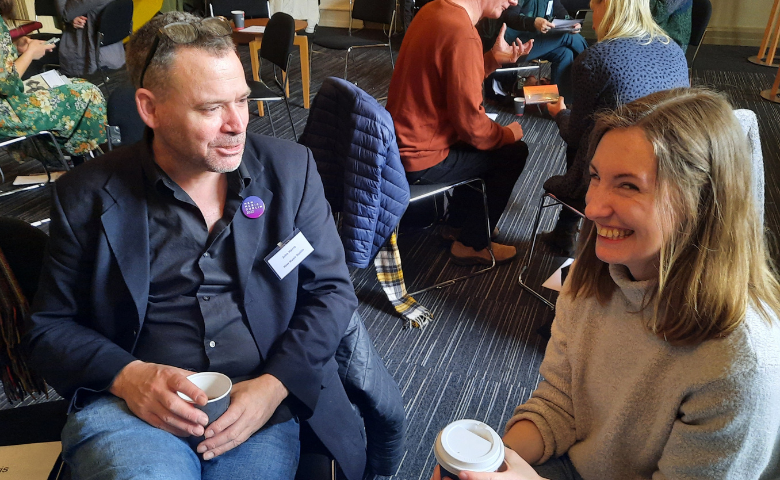 Networking at New Music Dublin eXchange, April 2022. Photo: CMC.
CMC: What is coming up next for you?
Aoife:
Aside from my project with Kevin, I'll be going to Limerick in July to workshop some new choral music with the Irish Youth Training Choir - this is part of a commission with Sing Ireland and CMC for choir and electronics that's happening later this year.

I'll also be working with Roisin Whelan Dance again in September on 'Galaxy of Occupations', a children's dance show about what you want to be when you grow up. The show is being made with support from Dublin City Council and will tour primary schools in the autumn.
The CMC Emerging Composer scheme provides supports and professional development opportunities to emerging composers, as a foundation programme for future Associate Representation. It is aimed at those who are at the early stages of a career as a professional composer. Find out more.