Donnchadh Mac Aodha wins West Wicklow Chamber Music Festival Composition Competition for Emerging Composers (Flute & Piano)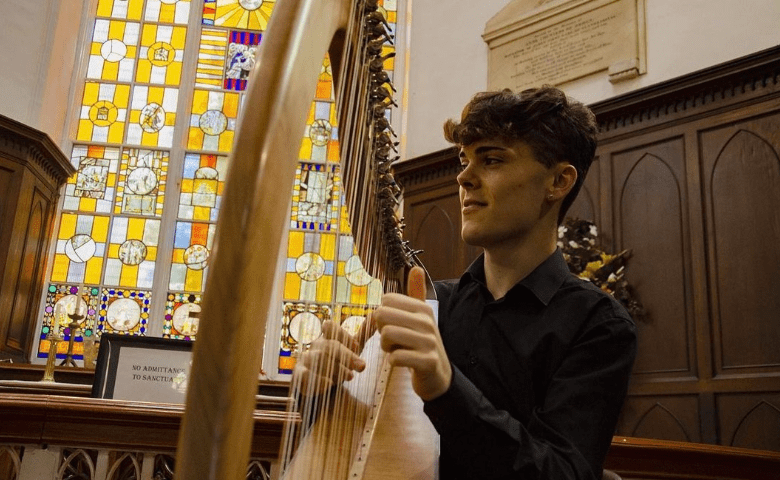 The West Wicklow Chamber Music Festival and the Contemporary Music Centre, Ireland are delighted to announce the winner of the 2023 Composition Competition for Emerging Composers (flute and piano): Donnchadh Mac Aodha
The West Wicklow Chamber Music Festival is thrilled to partner with the CMC in delivering our 2023 Composition Competition for Emerging Composers. The winning work of the May call is "Music for flute and a 2-handed pianist" which was composed by Donnchadh Mac Aodha. This work will receive its world premiere at the festival on Saturday 20th May at 4pm at Russborough House, as part of the Rising Star's recital featuring Amy Gillen (flute) and Frasier Hickland (piano). A representative from CMC will interview Donnchadh in advance of the premiere of the new work and this concert performance will be recorded for future broadcast on RTÉ lyric fm. Both organisations are passionate about the need to support emerging composers at a crucial development stage in their careers and I look forward to continuing this fruitful collaboration with CMC into the future.
Fiachra Garvey, Founder and Artistic Director West Wicklow Chamber Music Festival
Donnchadh Mac Aodha 
Donnchadh Mac Aodha (b. 2002) is a composer and multi-instrumentalist from Dundalk Co.Louth, Ireland. He is a Quercus Creative & Performing Arts Scholar at UCC where he is undertaking a BMus degree. As both a traditional Irish and classical musician, Donnchadh finds himself most at home at the interface of these genres and allows his bi-musical upbringing to influence his compositional output. In arranging and composing, Donnchadh often uses tuneful, folk-like motifs and situates them within his unique and ever-changing compositional language of contemporary techniques. In particular, he is drawn to the Irish language and deals with ideas of belonging and identity in his music. In his career as a composer, Donnchadh's portfolio includes an array of works including pieces for string quartet, SATB choir, piano trio, harp ensemble, and other solo instrumentalists and larger traditional ensembles. In 2020, Donnchadh won 1st prize in the composition competition at the New Ross Piano Festival for his piano work "Music in the Tuileries" which was premiered by Finghin Collins at the 2021 festival. He is a member of the Irish Composer's Collective and premiered a film score and a work for clarinet and electronics at their recent festival. His piece "Port na bPúcaí" was performed by the Ficino Ensemble at the Irish Composition Summer School in July of 2022. Donnchadh is currently studying composition under the direction of John Godfrey as part of his degree in UCC, hoping to further his studies in this area following his undergrad.
For more information and to book tickets for the WWCMF Rising Stars Concert, please visit www.westwicklowfestival.com
The call for works for the 2023 Composition Competition for Emerging Composers (Brass Quintet) remains open until Friday, 22 September 2023. Find out more about this opportunity here.