Music for Wexford Announce Recipient of their 30th Anniversary Harp Commission: Dr Anne-Marie O'Farrell
Photo by Barry Cronin
Following a call for proposed works written for three concert harps, CMC Composer Dr Anne-Marie O'Farrell has been selected for the Music for Wexford 30th Anniversary Harp Commission. O'Farrell's proposal was selected by a panel which included a composer, a harpist from The Emperor Trio and a representative of Music for Wexford. The Contemporary Music Centre chaired the selection panel and advised on commissioning guidelines for the work.
Music for Wexford's Beth McNinch said: 
We were astounded not only by the volume of applications but the incredibly high standard. It was a real pleasure to read through the different ideas submitted but ultimately Anne-Marie stood out. Her wealth of experience as both harpist and composer shone through and we are very excited to hear the first performance on May 28th.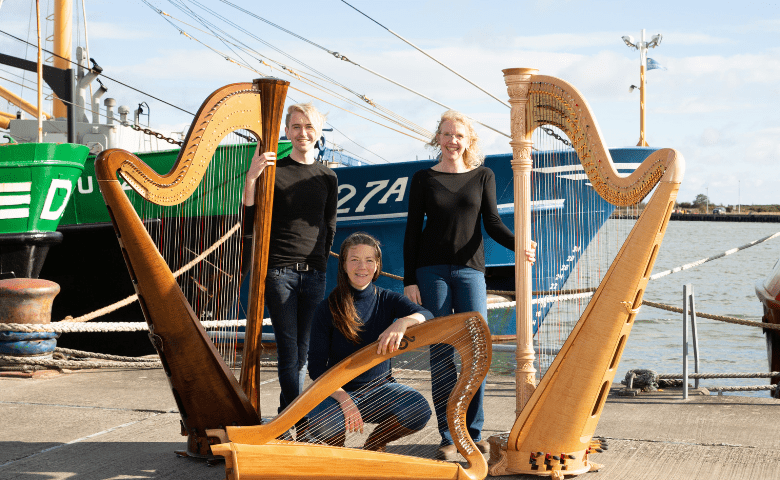 The Emperor Trio: Dianne Marshall, Aisling Ennis and Richard Allen
Dr Anne-Marie O'Farrell described the new work, 'The Ocean's Corner', which will be premiered by harpists Dianne Marshall, Aisling Ennis and Richard Allen at the Music for Wexford's 30th anniversary concert at St. Iberius Church:
The Ocean's Corner for three pedal harpists will evoke aspects of County Wexford through use of local melodic material, and the assignment of a specific character to each of the three harps. One harp will suggest the spirit of the sea, as this surrounds much of the county; another harp will suggest boats, and their sails and rigging, depicted using extended techniques around the body of the instrument, and drawing parallels between the strings and ropes; against this sonic backdrop, the third harp takes its place as the voice of Wexford, 'Exemplar Hiberniae' (Wexford's motto), recalling glimpses of its inherited airs, including the tune from Gorey, 'I'll travel to Mount Nebo' from volume three of William Forde's Collection, and a lively rhythmic Yola song, referencing the unusual dialect of early English spoken in South-eastern Wexford. All three present a picture of this coastal county, guarded using the maritime handiwork of its craftspeople, and sustained by its artistic riches.
The Music for Wexford 30th Anniversary Concert takes place at 3pm on Sunday 28th May 2023 at St Iberius Church, Wexford town. For more information and booking visit the CMC event listing here.
Visit the Music for Wexford website.