Through the Digital Door: Violin works in CMC's library
Thu 2 Apr 2020
During the Covid-19 restrictions and closures, CMC's library will remain closed to the public. However, CMC staff continue to run core services remotely. Composers, musicians, students and audiences currently face a significant period of change in Ireland and around the world. As musicians cannot easily rehearse together at the moment, CMC Librarian Susan Brodigan looks into CMC's vast collection to highlight works for solo instruments in a series called 'Through the Digital Door'. This week, Susan looks at six works for solo violin. These six works represent only a fraction of the works for solo violin available in the CMC Library.
If you have a library or research query, please email Susan on sbrodigan@cmc.ie
This work was originally written for solo piano for the Dublin International Piano Competition in 1991, and later transformed into this version for violin, with funds from the Arts Council of Ireland/An Comhairle Ealaíon. This version was premiered in 1993 by Josje ter Haar. The programme note for this work provides some insight:
The title comes from a rumoured attribute of the eighteenth-century castrato singer Guisto Ferdinando Tenducci (one of the models for the castrato Seriafino in Barry's opera The Intelligence Park), who, according to Casanova, was triorchic. This attribute enabled him to surprise his admirers by combining the role of paterfamilias with his operatic career.
This short work is a study in extremes of register. It is published by Schott and performed in this recording of the piano version by Michael d'Arcy.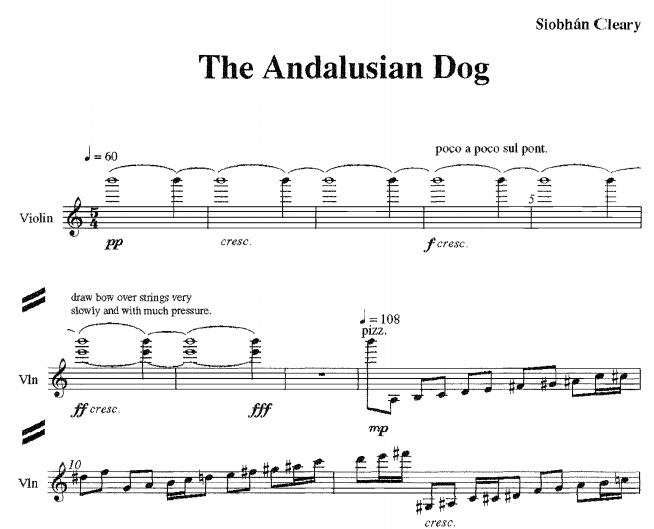 Siobhán Cleary was commissioned to write Un Chien Andalou for the 1928 surrealist film of the same name, which consisted of music for violin and piano. This work was written as a response to the vivid cinematic imagery in the film. The programme note for this work gives us some insight into the use of this imagery:
The opening of the piece is programmatic and taken from the film score. Thereafter the piece reflects the chaotic energy and bizarre imagery of Dali's and Brunuel's masterpiece.
This work was premiered in Paris in 1997 by Michael d'Arcy. The clip below is from a 2003 performance of this work by Darragh Morgan in the John Field Room, National Concert Hall, Dublin.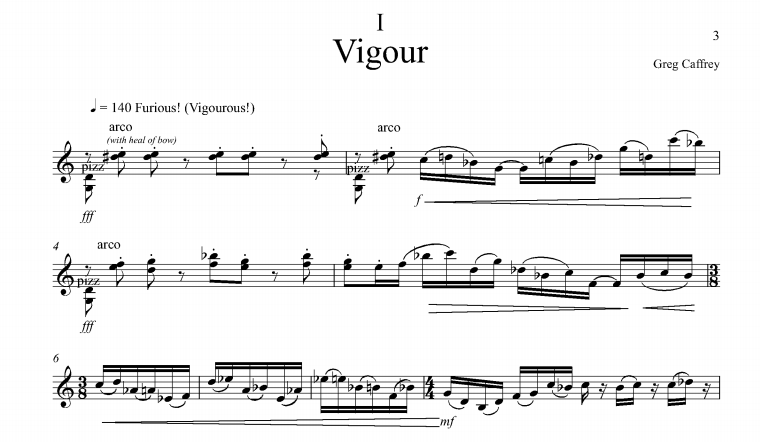 Greg Caffrey's Vigour, Rigour, Jigger was written in 2008. Commissioned by the violinist Elizabeth Cooney, it was premiered by her in the John Field Room, National Concert Hall, Dublin in 2018. This work has since also been arranged for solo viola and solo cello.
The programme note describes a three-movement work, 'organised as a slow lyrical movement flanked by two vibrant and rhythmically charged movements.' Listen to the third movement below.
Jane O'Leary No. 19 (2012) 8'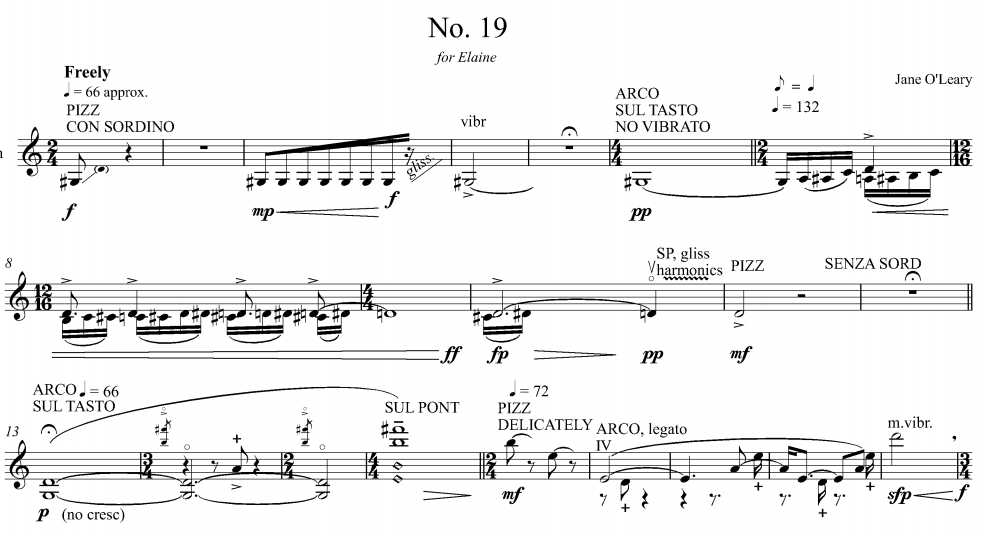 This work was composed in 2012 and premiered by violinist Elaine Clark at 'Concorde: Up Close with Music' in Contemporary Music Centre's building on 19 Fishamble Street. In this work, the composer makes fleeting references to the activities that would have taken place in and around No. 19 over the centuries, as well as reflecting on dreamy moments that connect us with the past. From the programme note:
outlines how the contrast between these two musical thoughts creates a momentum; these two elements can also be seen as a contrast between stark reality and spacious imagination. The music pays tribute to No. 19 Fishamble Street and all the spirits who have lived and worked on this historic spot'. This work has since also been arranged for solo viola and solo cello.
Listen to a live recording of Elaine Clark performing No. 19 below.
Sam Perkin Language (2017) 15'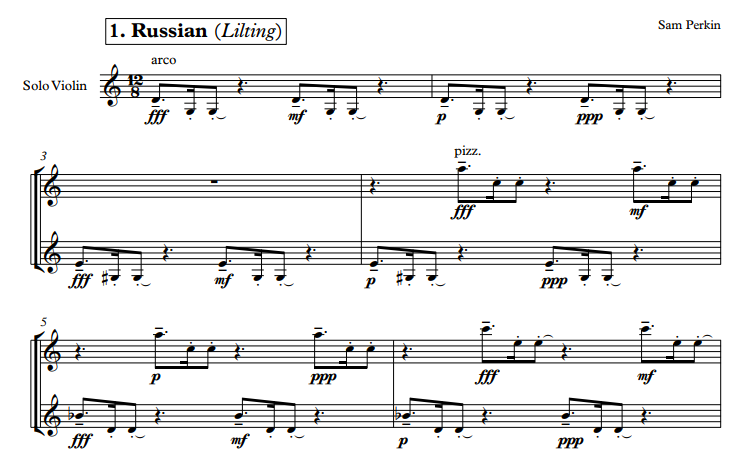 Commissioned by West Cork Chamber Music Festival, Language was premiered in 2017 by violinist Miranda Cuckson. This work is inspired by an exploration of human language and inspired by Messiaen's transcription of the language of birds. The composer asked himself the questions 'to what extent does language influence music, and at what point does something become music?'
Watch Miranda Cuckson perform Language here.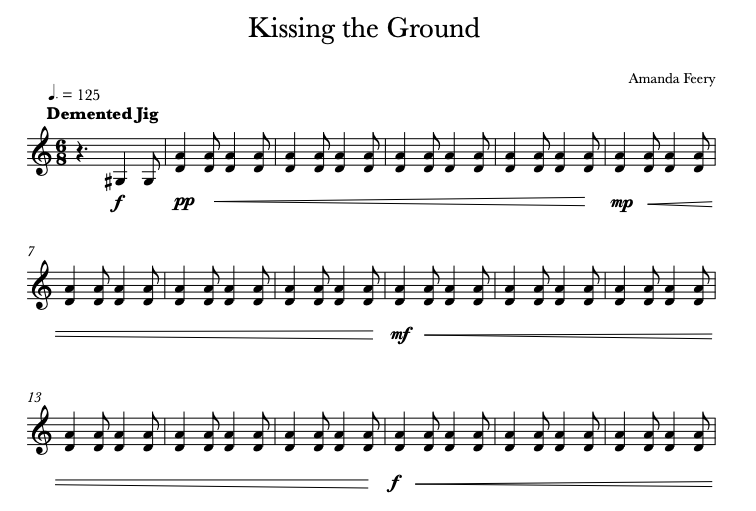 This work was premiered by Zoe Conway at the Irish Composers Collective's The Strung Series in 2015. The composer, in her programme note, outlines what inspired this work:
by two things - the Hans Christian Anderson story The Red Shoes and the action of tapping the foot when listening to or playing Irish traditional music. For this piece, I was thinking about the idea of the foot being forced to tap, like suddenly becoming very aware of a nervous tic.
Listen to a performance of this work below.