Library Ireland Week 2019: Graphic Scores
Fri 6 Dec 2019
Library Ireland Week 2019
Graphic Scores: when art and music collide
As part of 2019 Library Ireland Week 'Libraries Inspire', CMC Library Co-ordinator Susan Brodigan looks at a small selection of graphic scores from CMC's collection, where music inspires art and vice versa. These scores are available to view and study in CMC's public library, and performance materials for many of these works are available from the CMC website.
Graphic scores can combine traditionally-notated music with graphic and more unconventional elements, where the performer's interpretation can vary from performance to performance. These works will often vary in duration, instrumentation and the number of performers involved.
Jennifer Walshe's This is why people O.D. on pills... is printed on a t-shirt, rather than as a paper score. It is a work of variable duration and can be performed by a solo artist or by a variable ensemble. Different instructions are given depending on the number of performers involved; however performers are instructed to follow a 'path' on a skateboard. This is just one of many graphic scores which represent Jennifer Walshe's unique works.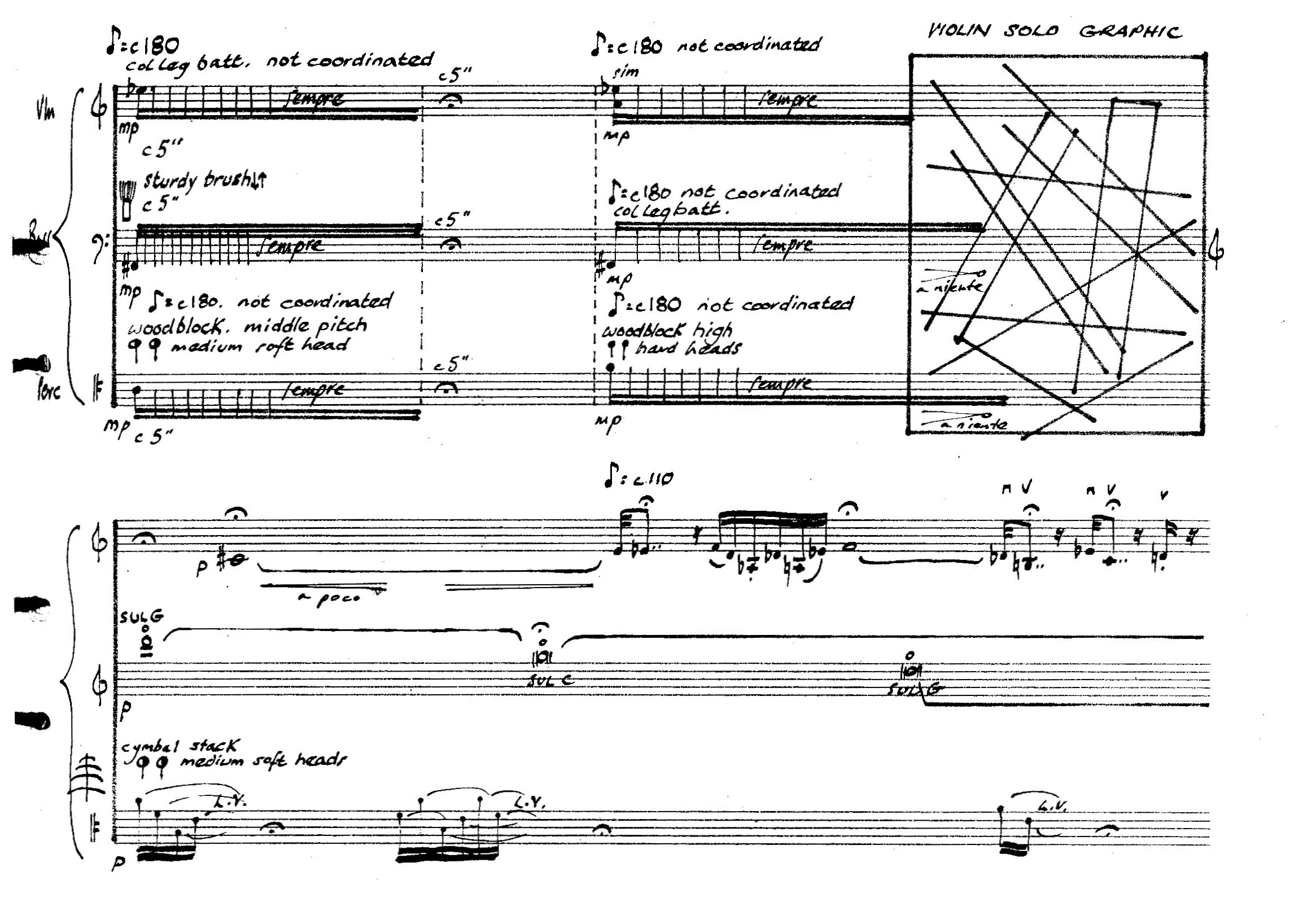 Barry Guy's scores combine a mixture of traditionally notated music element alongside graphic elements. Andeutende Dynamik is written as a reflection on a triptych of paintings by András Wolsky, and features three solo cadenzas for violin, double bass and percussion, each followed by a trio. The programme note for the work reflects on how this tryptich led to the music, where 'a diagrid system forming the paints' architecture suggested movements or journeys that a player might take, with coloured confluence points proposing specific soundscapes outside of the diagrid continuum'.
This work is written for a detuned double bass, and composed to emulate the sound of a bodhrán through a series of 'conditioned improvisations'. The graphic score itself is set on a bodhrán, and navigation between the individual elements on the score is decided by the performer.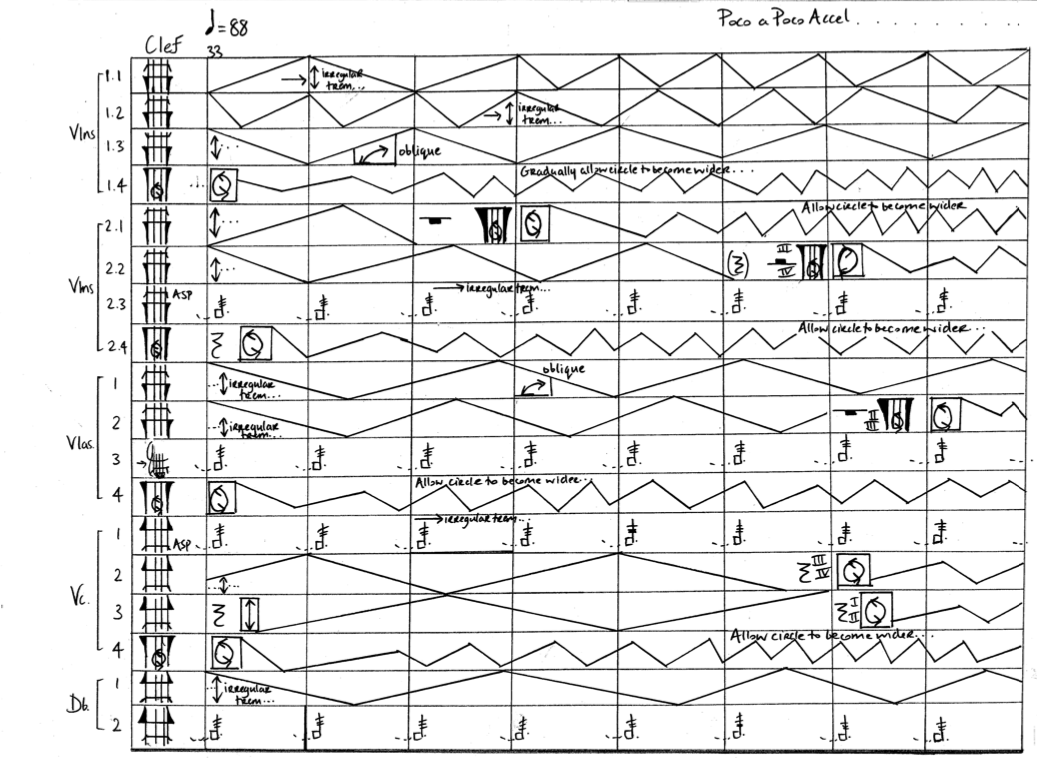 Claustrophobia for string orchestra is a work written to create landscapes of sounds conveying a feeling of claustrophobia. The composer notes in the programme note that 'I sought to create spatial music where there is rarely any sense of time, just four immense landscapes of sound'.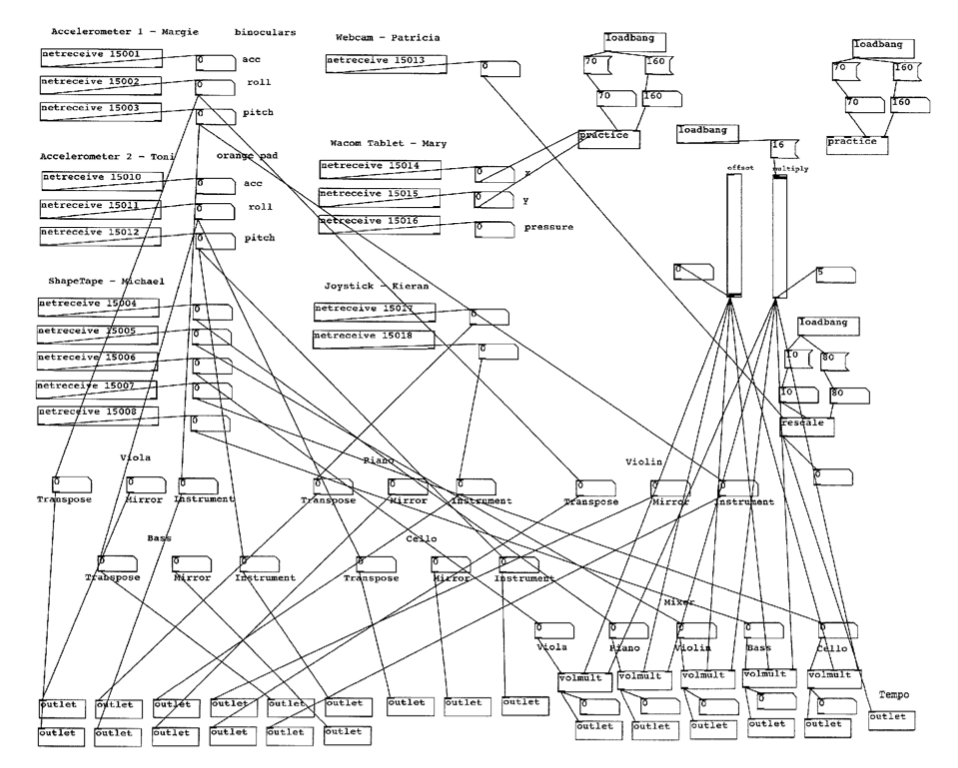 Softday, a collaboration between Seán Taylor and Mikael Fernström which has developed a number of science-art projects. Their work *Common Ground* was written for choir, chamber orchestra and live electronics. The electronics are designed using a visual programming language called PD, and takes input from six human gesture sensors. This 'patch' then converts the performer's body movements to sound. This work was premiered at the 2003 Síonna Festival of European Folk Music in Limerick, and was commisissoned to mark the International Year of People with Disabilities.
Common Ground, Act 3 from Mikael Fernström on Vimeo.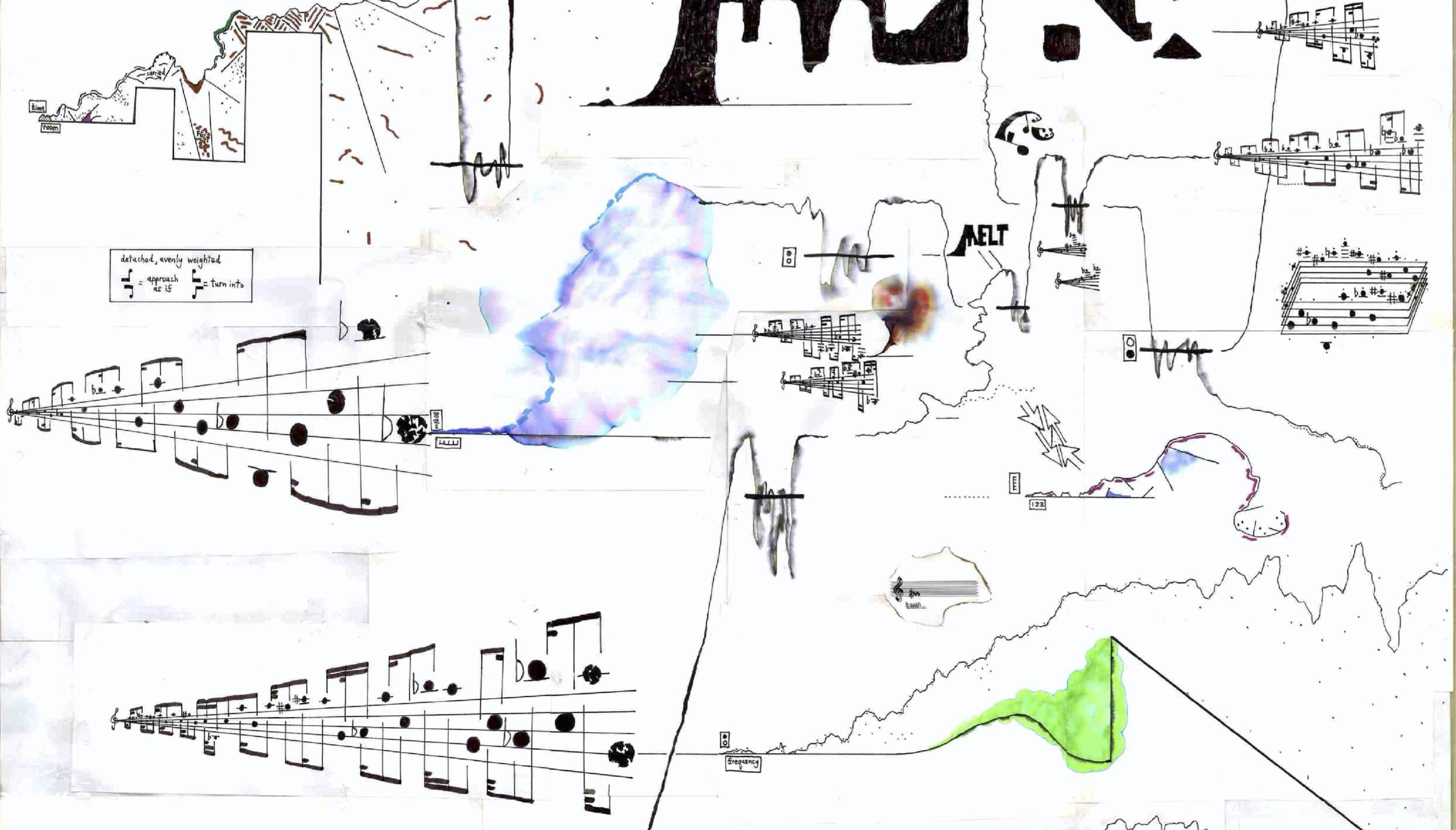 David Bremner's Composure is a work written for bass clarinet and performed by clarinettist Paul Roe. The score documents the indeterminate results that can be produced by using extended techniques on bass clarinet, and is completely open to interpretation. The composer's programme note explains that 'the work revolves around the idea of contained energy... the score's main motif is that of the note which breaks up into pieces, becoming timbral rather than pitch-oriented'. The score was created by drawing on blotting pater with different pens, and then dropping water from a pipette onto ink, where it is 'impossible to control the exact result, so the compositional process mirrors the indeterminacy of the performance'.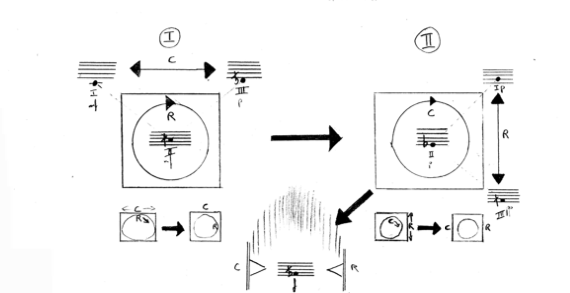 Nick Roth's Temenos is written for alto recorder and bass clarinet, and was premiered by Laoise O'Brien (recorders) and Paul Roe (clarinets). This works was premiered in a pairing with 'Embers I' by painter George Vaughan.