CrashLands
Mon 10 Jul 2017
Crash Ensemble celebrates 20 years during 2017, and as part of this the new music group is running CrashLands, a new music project which sees the premiere of 20 newly-commissioned works by Irish and International composers in a range of unusual rural locations across Ireland. CMC spoke to the ensemble's CEO, Neva Elliott McGinley, about the project.
Where did the idea for CrashLands come from?


Crash is twenty years old in 2017. We wanted to do something to celebrate that fact.

We had commissioned 20 composers to write new works for the ensemble – short pieces of five minutes for less, as 'birthday candles'. We wanted to really make the most of these pieces, for a live audience and also our international audience.

The idea for CrashLands came from thinking about how we make the experience of each work special and how we present ourselves as an Irish new music group with an international following.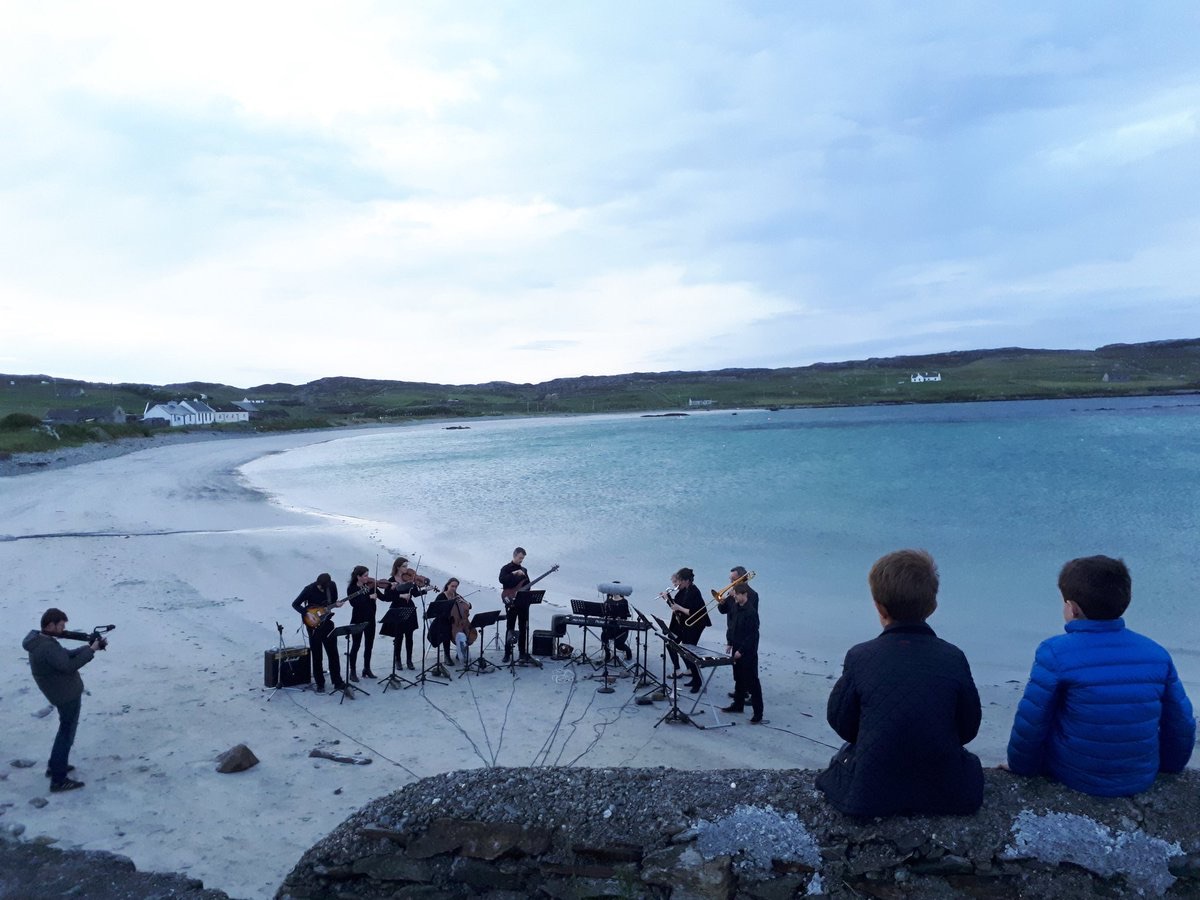 Crash perform on Inishboffin. Photo credit: Louise Barker
The project seems very much about connecting with places throughout Ireland, as well as involving other artforms such as film and poetry. What are the reasons for this?


Crash are an internationally recognised group. While we are very proud of this we are also proud of being Irish and wanted to place ourselves firmly in Ireland – choosing iconic Irish environments – islands, a lighthouse, a holy well, a forest…


We also wanted to extend the reach of the project beyond live performance, so commissioned the filmmaker Brendan Canty (of Feel Good Lost) to come with us on the tour and create music videos of each premiere. He is also creating a behind the scenes documentary.


It is important to us that while we create these amazing boutique experiences for the live audience there is also an opportunity for audiences all over the world to hear these new works, to hear Crash and to see them both in these incredible environments.


The bilingual poet Doireann Ni Ghriofa is also traveling with us. She is responding to the music, to Crash, to the tour and creating a new work from her experiences. It's another way to interpret or understand who we are and what we are doing. We are also planning an album of all the works which will be out next year.


There's also a strong water theme throughout, with performances on two Islands, a beach, and a 'Water Music Festival'. Is this an intentional theme or a happy coincidence?


With Ireland being an island it's hard to get away from water! We did look at a lot of coastal locations as we felt that this was important to our identity in Ireland. Other themes that have come out are stone, and Doireann Ní Ghríofa's work has started with a focus on stone.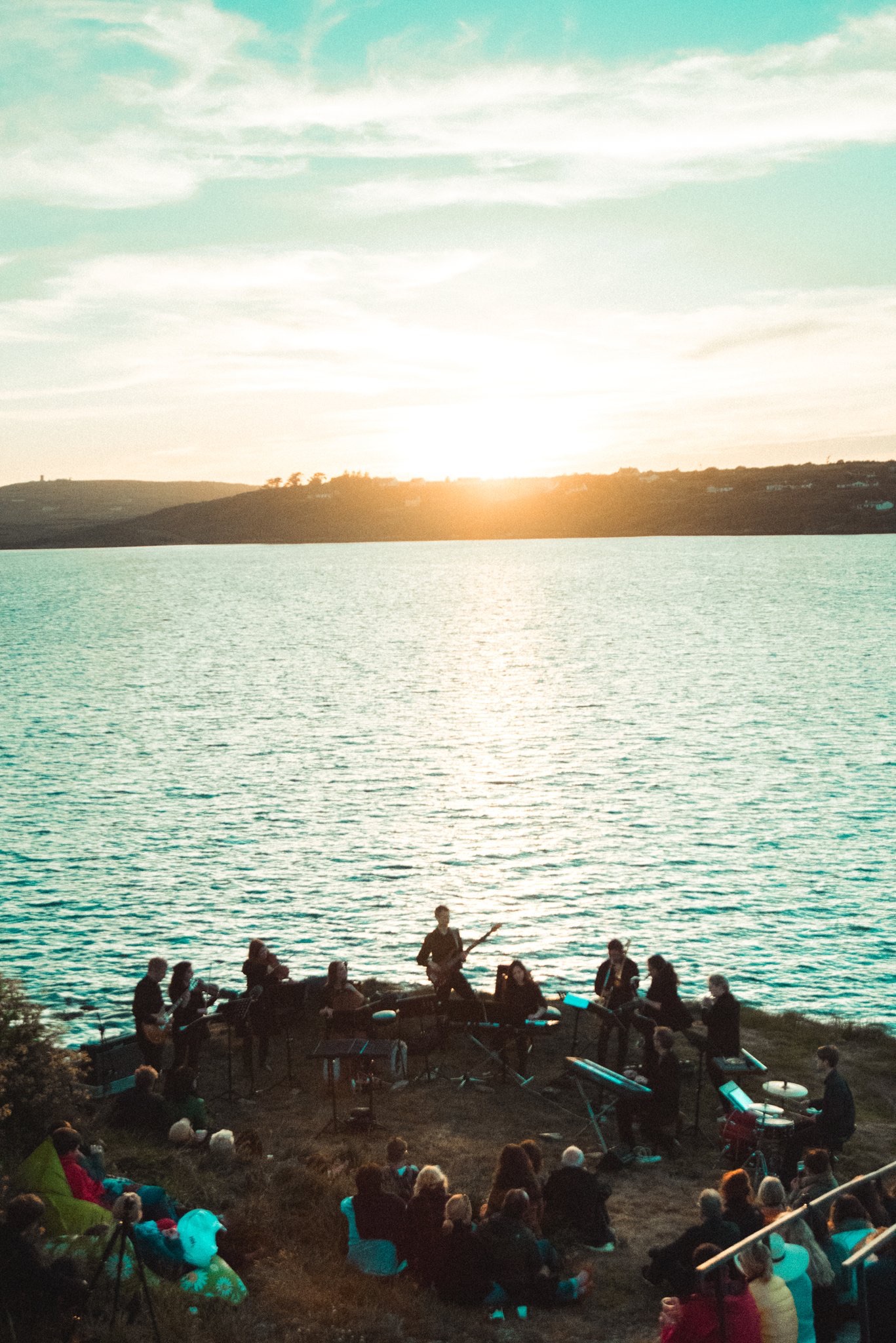 Crash on Long Island, Schull, Co. Cork. Credit: Feel Good Lost 
You have commissioned 20 composers to write piece for this project. How did you go about selecting these composers to write for Crash, and tell us about some of these pieces.


We commissioned 10 Irish and 10 international composers - Amanda Feery, Andrew Hamilton, Ann Cleare, David Lang, Donnacha Dennehy, Ed Bennett, Gerald Barry, Jennifer Walshe, Julia Wolfe, Kate Moore, Kevin Volans, Linda Buckley, Michael Gordon, Nico Muhly, Paul Lansky, Peter Adriaansz, Roger Doyle, Sean Clancy, Tansy Davies, and Naomi Pinnock. Composers that have a past connection with the ensemble and those who we hope to have a relationship in the future.


In each site one international and one Irish composer's work will be premiered. The music itself is a mixture - representing the composers, Crash and also the element of celebration.


You have already performed at a number of sites already, with more to come throughout the summer and in September. How has the experience been so far?


The first CrashLands was on Long Island in West Cork. We performed on the edge of a cliff with the sun setting behind us. The audience had come over on ferry's and their own boats and were sitting and lying on the grass around us. Sea birds were whirling around our heads and the sound of the lapping waves intermingled with the music.


The second performance was on Inishbofin off the Galway coast. We first performed on a beach with the tide nipping at our heels as the sun set and then the next morning performed in the local hall to an audience of local school and crèche children, as well as some adults!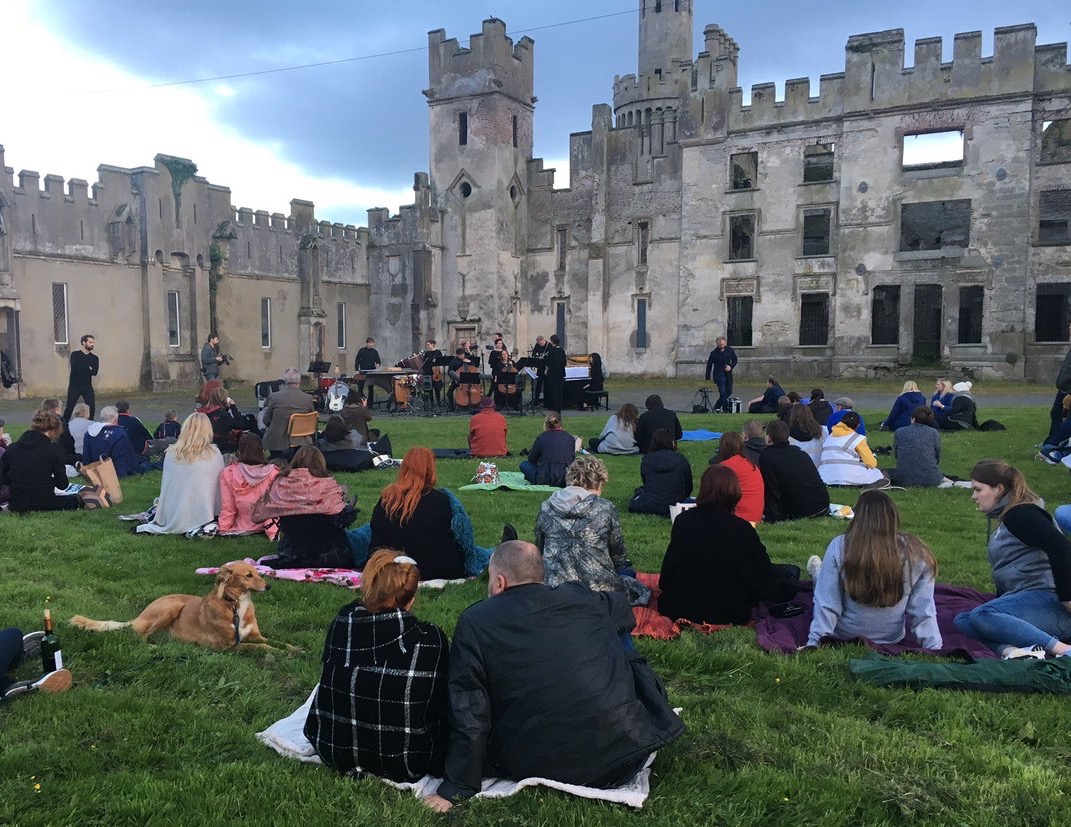 Carlow performance. Photo credit: Emma Lucy O'Brien  
CrashLands #3 was in Mountshannon, Co. Clare at midday, we performed in the Aistear Park maze and later when the weather intervened we ducked undercover for another performance. CrashLands #4 was at Duckett's Grove in Carlow, in the shadow of the ruins of the 19th-century great house. The audience lounged on picnic blankets listening to us as the sun set.


Each of the performances were in partnership with a Festival - Fastnet in Schull, Inish Island Conversations, Mountshannon Arts Festival, Carlow Arts Festival, and Clonmel Junction Festival at St Patrick's Holy Well.
Future performances include Leitrim for the Carrick Watermusic Festival (12 July), Aranmore Island, Co. Donegal for the Earagail Arts Festival (23 July), Cahersiveen Festival of Music and the Arts, Kerry (3 August), Kilkenny Arts Festival (16 August), Sounds from a Safe Harbour, Cork (16 September). We then make our way back to Dublin for one further premiere and the performance of all works at the National Concert Hall in November.


For more information on Crash Ensemble's CrashLands series see www.crashlands.ie or follow Crash on Facebook , Twitter and Instagram @crashensemble #CrashLands.