CMC Library Ireland Week 2018: A performer's perspective
Tue 20 Nov 2018
Niall Kinsella is a pianist, accompanist and vocal coach, with a strong interest in Irish Art music. He regularly consults CMC's Library when exploring new works or putting together a concert programme.
Niall writes about the key role music libraries play in his work, and the importance of CMC Library when embarking on a new project or exploring a lesser-known area of music from Ireland.
A music library is my happy place. I often pass hours researching repertoire, exploring new music, and discovering composers who were previously unknown to me. I'm always drawn to new works and satisfying my musical curiosity. 
For the last few years I lived in Vienna and studied at the University of Music and Performing Arts. During that time, the institution opened a new library to mark its 200th anniversary. The library's vast vocal section was invaluable in helping me source music for performances and devise recital programmes. The department of voice and opera had its own specialist library, dedicated to lieder, opera and vocal music. You can imagine the many fascinating hours I spent there!
I have a strong interest in Irish art-music, so naturally the library and archive of the Contemporary Music Centre plays a huge role in my work.
Recently, I had the chance to revive the music of Irish composer John F. Larchet (1884-1967), and as part of this project, I performed his complete songs and music for violin and piano at the Dublin City Gallery The Hugh Lane in June 2017, and at the National Concert Hall, Dublin in January 2018. These were the first major concerts celebrating Larchet's life and music, and coincided with the 50th anniversary of his death. A personal joy for me was that Dr Larchet's daughters Sheila and Máire (who has since, sadly, passed away) were guests at both concerts. The radio broadcast of the Hugh Lane concert piqued the interest of producers at Champs Hill Records in the UK, and in June 2018 mezzo-soprano Raphaela Mangan, baritone Gavan Ring, violinist Mia Cooper and I went to record an album at their beautiful studios in West Sussex. After a long but rewarding process, I am delighted that the album is due for international release in 2019. It is my hope that more people will come to know and love Larchet's very fine music – a uniquely Irish contribution to the English-language song repertoire.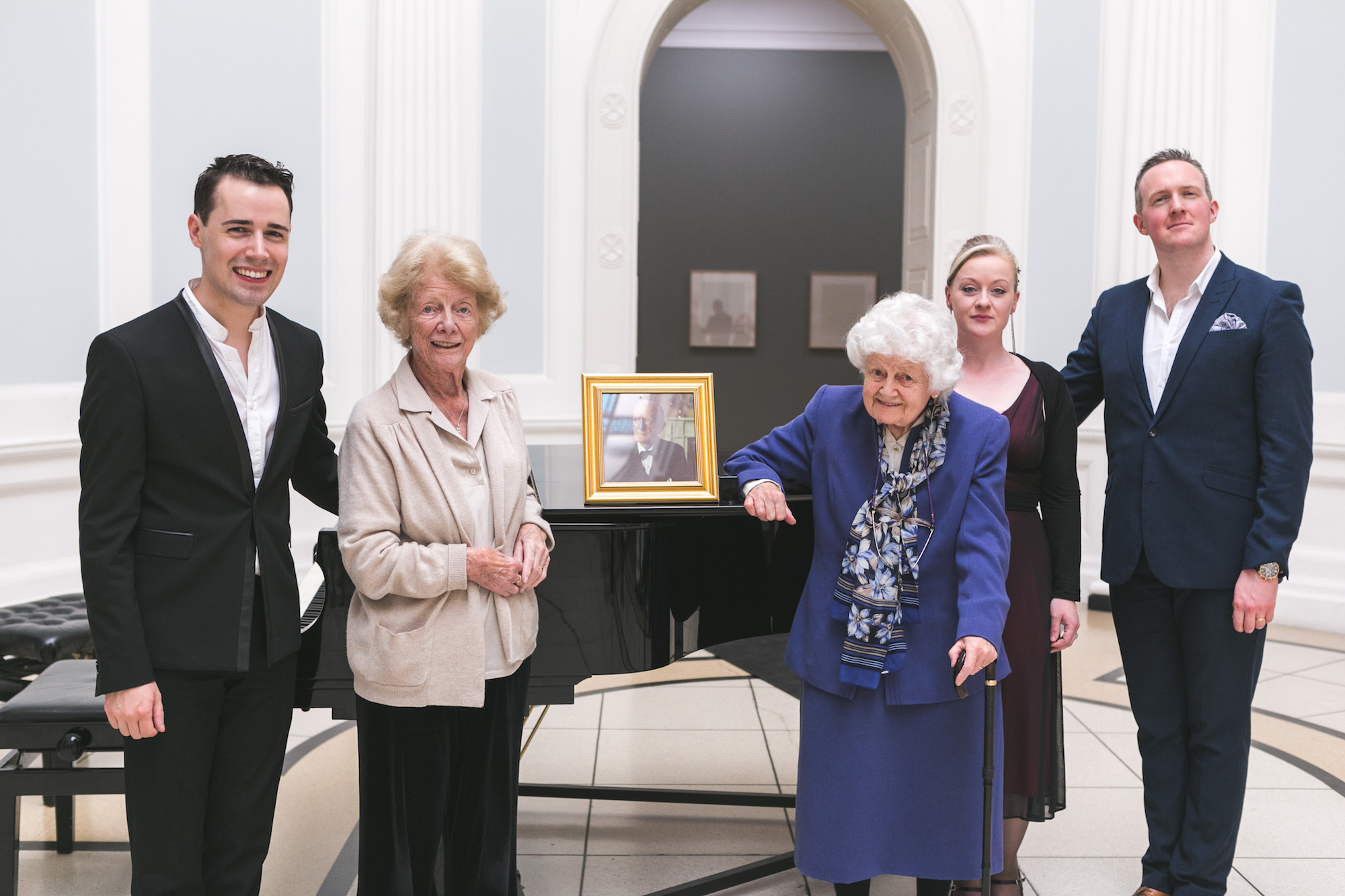 NIall Kinsella, 

Máire Larchet, Sheila Larchet-Cuthbert, Raphaela Mangan & Gavan Ring at Hugh Lane Gallery, Dublin.
Almost all of Larchet's music is long out of print, yet still within copyright in Europe. It is impossible to find many of the songs in libraries, so it was very fortunate that the Contemporary Music Centre held copies of most of the music I was looking for. Through working closely with Dr Larchet's estate, the music was thankfully made available to me for performance. 
​
Much Irish art-song and art-music is severely unexplored – perhaps this is because Ireland's music culture has been geared more towards traditional music, or perhaps because we as classically-trained musicians still, somewhat understandably, regard central European art-music as the core of our repertoire. However, in recent years there has been a revival in interest in our own art-music legacy: the triumphant Composing the Island festival in 2016 was a huge revelation, also was the revival of the Robert O'Dwyer's Irish-language opera,
Eithne
, in 2017, by Opera Theatre Company, now Irish National Opera.
The publication of The Encyclopedia of Music in Ireland in 2013 also marked an important turning point in our country's music history – for the first time we have a roadmap of our nation's musical journey – from the historical to the contemporary.
It is important that Irish musicians take pride in our own art-music, perform it often, and represent it internationally. I would heartily encourage my fellow musicians and concert programmers to take advantage of the wonderful resource that is our Contemporary Music Centre! 
Larchet: The Stranger Niall Kinsella, piano and Raphaela Mangan, soprano.
Recorded at Hugh Lane Gallery, June 2017.