CMC Library Ireland Week 2018: a composer's perspective
Thu 22 Nov 2018

Composer Ailís Ní Riain has engaged with CMC's library since she was an undergraduate student in University College Cork. Now an established composer whose works are performed around the world, Ailís continues to value the services and facilites provided by Contemporary Music Centre's library, as she discusses here.
I first encountered the Contemporary Music Centre of Ireland's Library & Archive facilities back when I was an undergraduate music student at University College Cork. I was then primarily focused on contemporary piano performance and wanted to find pieces by contemporary Irish composers to perform.  I got in touch with the CMC and they helpfully suggested sending me a selection of pieces to view which might be appropriate in terms of difficulty and the genre of music I was interested in. Within three days I received a fat envelope filled with scores with a note attached to take my time looking through them and to return whatever scores I wouldn't need.  I was impressed by their efficiency and understanding – as a student, I couldn't possibly have afforded to pay for all of those scores at once.
That was my first experience of the CMC's Library & Archive service and now, many years later, I continue to utilise and benefit from it. Its primary function is to document, develop and promote contemporary music in Ireland. They have a terrifically comprehensive collection of works by all CMC represented composers - including scores, recordings, ephemera - including posters, fliers, programmes - this is an important and valuable resource which composers, researchers and the general public can avail of easily in person or online.
Over the years, various musicians have contacted me to say they are learning a work of mine or planning a performance – invariably they have encountered my work via the CMC. Indeed when I was programming a small series of concerts I also used the library and research facilities to find less-well known Irish repertoire. Although I have lived in Northern England for many years now, when I have been in Dublin I have found time to visit the centre – just off Temple Bar – to access their collection of journals, books and articles or if I wanted to listen to a composer's work which had not, as yet, been commercially released.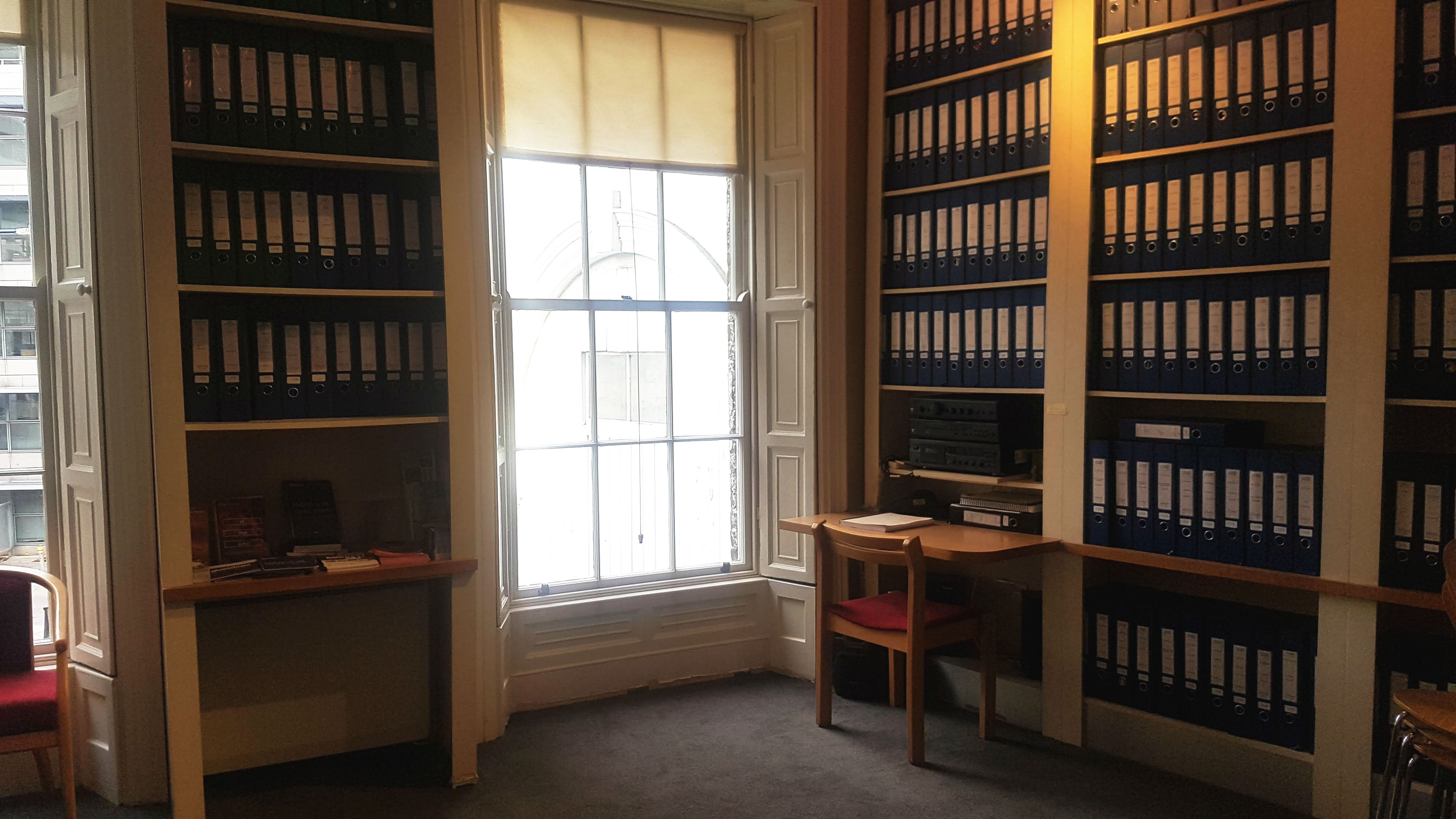 Contemporary Music Centre's library
Peace and quiet and a well-ordered, easy to use facility made these occasions both useful and enjoyable.  It's one of those places you wish you could spend a week in just looking through everything, especially as the years pass – it's fascinating to see the early editions of CMC's monthly magazine which I received in the post for many years – a vital aid at the time to keep me in touch with what was happening in Ireland, performances coming up and new scores lodged at the library which I could view, and if premiered, listen to.
Now, it is possible to preview pages for a large portion of the collection on the CMC website, and of course materials can be purchased via the website also. Since I became registered composer at the CMC I have regularly lodged my own scores with the CMC Library and Archive.  This is straightforward for me to do and can be done online. This is an important part of my professional practice as my work can be accessed by many more people than would contact me directly, especially performers or educational establishments hoping to find contemporary repertoire.  Also, it's a very useful resource where I can direct professionals who would like to see my full list of works, peruse or buy scores and access older material which I no longer have paper copies of.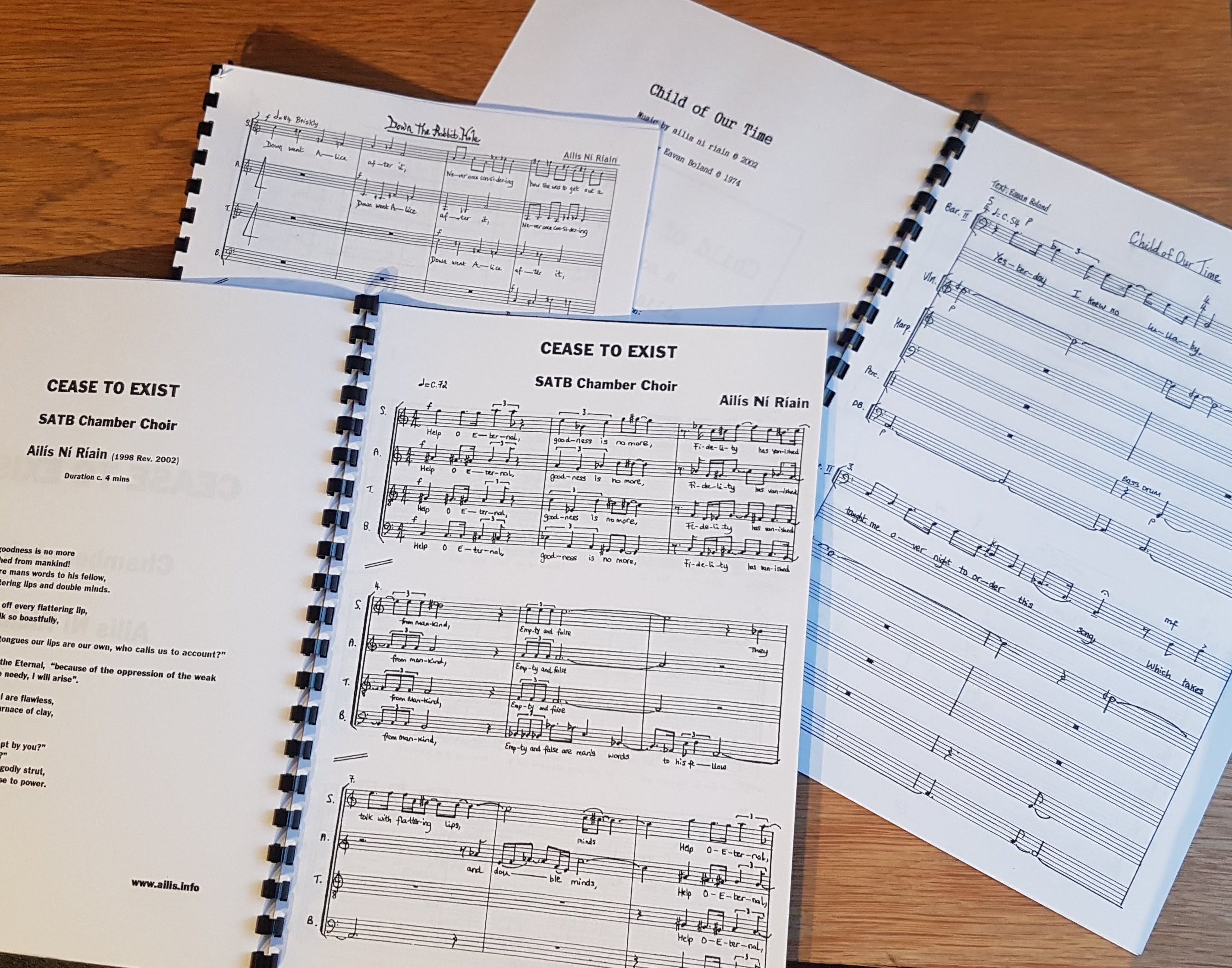 A selection of Ailís Ní Riain's work in CMC's library
For me the CMC Library & Archive is a vital and much needed service which I utilise regularly. I was at a talk about the importance of self-archiving last year and I hadn't realised how lucky Irish composer's are to have this important aspect of our practice supported and documented by the CMC for many years now. As the strength and individuality of Ireland's composers continues to waves abroad it means a great deal to many of us to know we can point people in the direction of the CMC and know that they will have a professional, efficient and helpful service – this helps us all and will continue to do so in the longer term.