Benjamin Dwyer on his 'KnowingUnknowing' project
Fri 18 Jan 2019
Composer and guitarist Benjamin Dwyer talks to CMC about his new CD/DVD release KnowingUnknowing, which receives its Irish launch on 25 January in Dance Ireland in association with the Association of Irish Composers and the Contemporary Music Centre.
How did this project come about and what are the main reasons for you putting it together?
Among my colleagues at Middlesex University where I teach, a group of improvising musicians, dancers, and filmmakers formed a collective called Transdisciplinary Improvisation Network (yes, a rather big mouthful, that we abbreviate to TIN). We would meet every two weeks or so and share ideas, before improvising… Among the dancers in TIN were Vida Midgelow (Professor of Dance) and Helen Kindred; musicians included Garth Knox (as an ArtsD candidate at Middlesex), the percussionist Simon Limbrick and trumpet player Jonathan Impett. Pete Gomes, filmmaker is also a musician so he had shifting roles. So the TIN lineup was rather impressive. These sessions unexpectedly (for me at least) turned out to be fascinating in the way they opened up ideas that, as a composer and player of standard notated music, would never have emerged. TIN was invited to perform at the InsideOut festival in London and Helen and I came together to participate.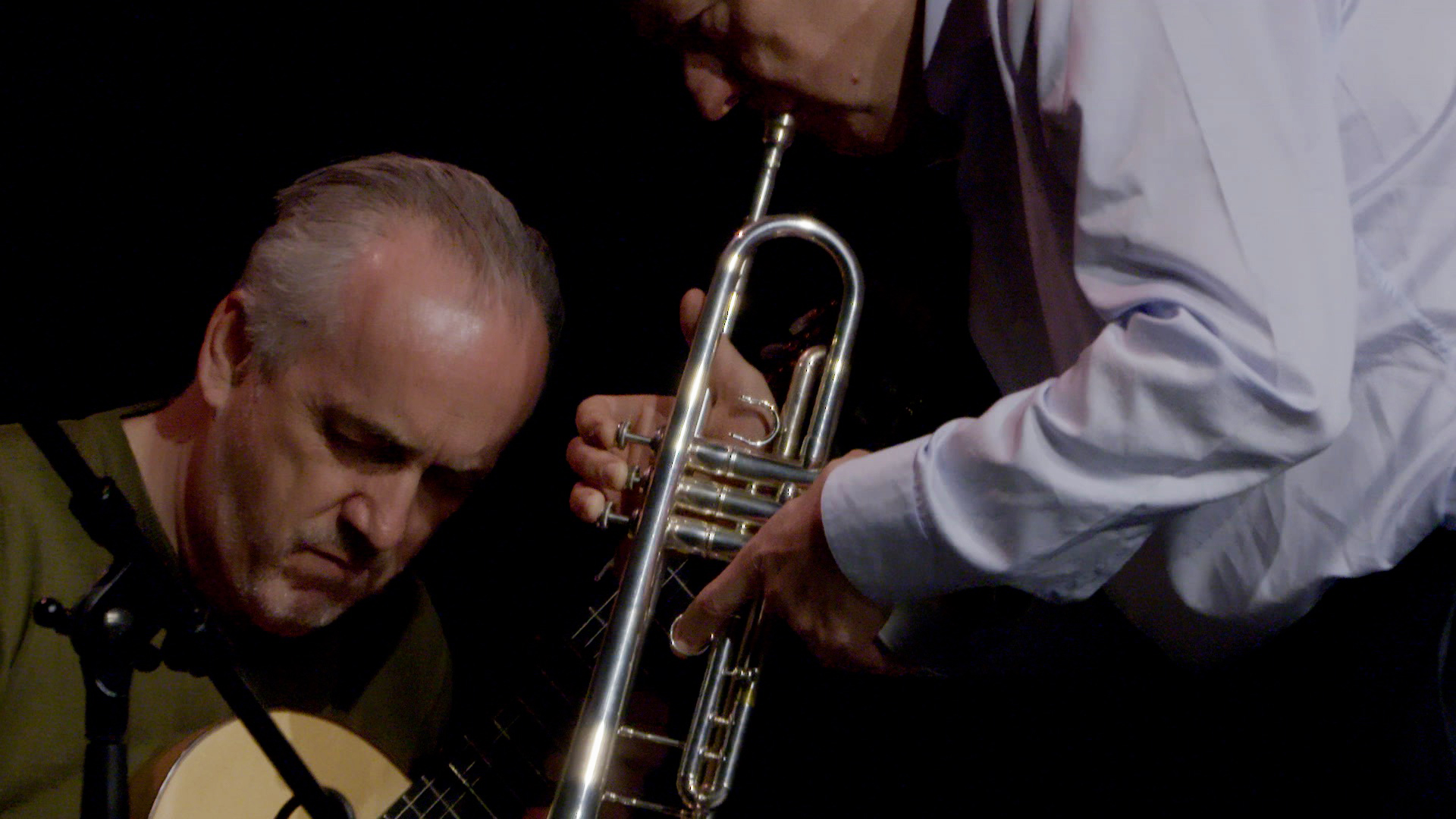 Benjamin Dwyer and Jonathan Impett
We talked about improvisation and came to similar conclusions regarding having to somehow bypass our trained responses. These ideas materialised from a shared awareness of the challenges we faced in finding something really new to say through improvisation. This challenge was more difficult, we felt, by the paradoxical fact that we were both highly trained in our individual fields — me as a classical guitarist and composer, Kindred as a contemporary dancer and choreographer specialising in Bartenieff Fundamentals. How could we search for new and innovative music and dance gestures that would be free (as much as possible) from the potential hazards of habit and cliché? How might we find ways to escape the deeply embedded gestures, techniques, practices, conventions, patterns, knowledges and assumptions that result from the thousands of hours of practice and study we both invested over the years as aspiring students and professional performers; not to mention our years of disciplined training in composition and choreography?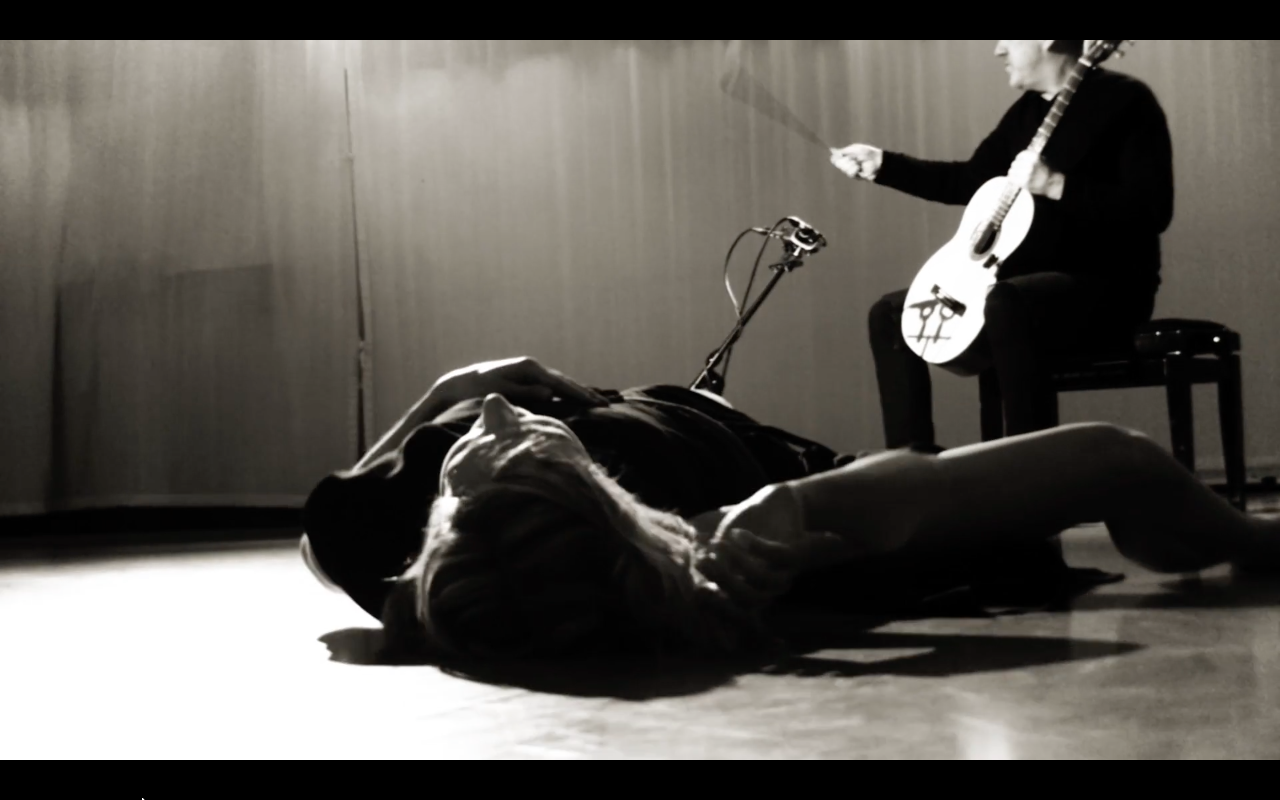 It became very clear to us that some type of distancing from our embedded training would be required if we were to offer something new in terms of music and gestural semantics. This is the reason we used blindfolds for one part of KnowingUnknowing; and why I use a prepared guitar for another. These are all ways of encouraging us to avoid our embedded habits. For the InsideOut festival we performed what subsequently because Part III of a triptych. The audience response was very powerful and we knew than that we had a piece that could be developed … so this was the genesis for KnowingUnknowing; and indeed, a new form of exploration for me as a player/composer/improviser.
There's a large selection of composers featured on the CD/DVD which accompanies the project, covering a span of almost 20 years. Do you see connections between all of these pieces, and do the works mirror the development of Irish music over this time in any way?
Well, the CD/DVD package that Farpoint Recordings have created, rather beautifully I might add, has quite an extensive text discussing all the pieces in context with each other and in the broader context of what we call the postmodern moment. Writing that essay was also a process of developing interpretative strategies because it made me think (in a different way to playing the music) about both the similarities and the differences between them. In that essay I talk about musical idiolect. That is, that contemporary music today is more and more connected to the individual language of a given composer rather than a shared dialect of a group of composers. So interpreters like myself need to figure out what the specific musical idiolect of a given composer is, if interpretations are to have any validity. But to answer your question more directly, the truth is that these composers are all very different in character, musical idiolect and in the technical means by which their music is articulated.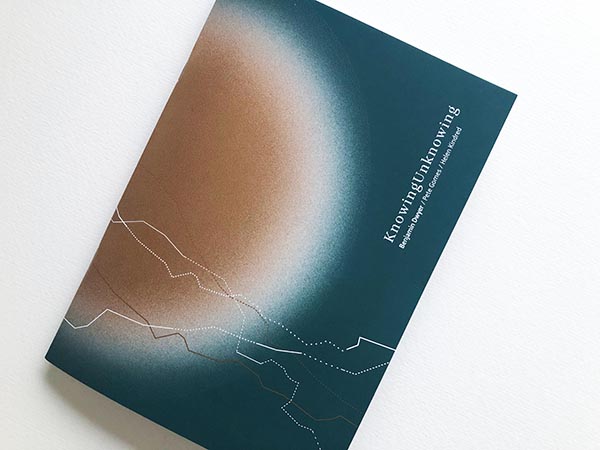 The pieces do mirror developments (or rather changes) to music over the past twenty years, though not exclusively or exhaustively. Hayes's adherence to atonality is a reference to his own mid-century influences. On the whole the younger composers have embraced tonality (or rather, tonal procedures) more easily. My own piece (a solo version of the KnowingUnknowing dance piece) emerges as much out of the technical procedures (using a bow on the guitar, prepared guitar, etc.) as it does my tonal/atonal languages. I do think, however, that the CD does spotlight shifts in Irish music over the past decade or so in its focus on improvisation, genre blurring, and microtonal scordatura procedures.
How important has your work as an improvisor been in shaping your approach to composition?
Improvisation has turned out to be a fascinating element of my work as a composer. My first foray into improvisation was with the Evolution project I did with guitarist Mike Nielsen. I owe it to Mike, as it was he who showed me how my compositional language could be subsumed into my improvisational language. So I come to improvisation with 30 years of compositional practice. Another huge factor is my work with Barry Guy, and in particular working in his Blue Shroud Band. Working at this level is a sink-or-swim experience and this has unlocked a tremendous amount of musical inspiration that I think would otherwise have remained hidden. Then further to this, working with Kindred has been a new experience. Here, the musician is also now working with physical gestures, the body, space—the occupation of three-dimensional space; all these elements have provided creative structures that have deeply affected my compositional thought.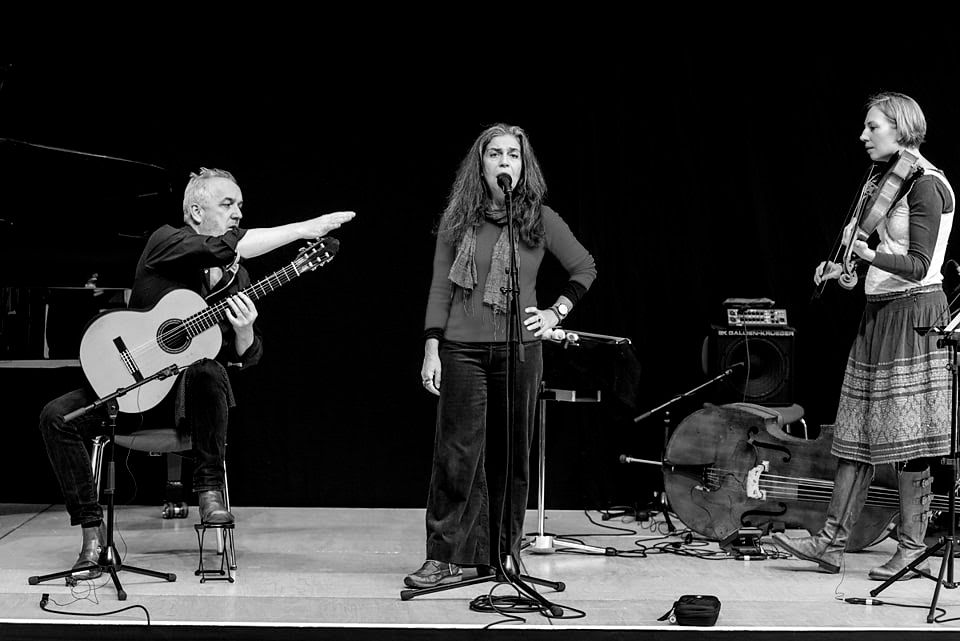 Benjamin Dwyer with the Blue Shroud Band 
A Beckett-inspired work I've just completed (and which will be premiered on 3 February at the Huge Lane Gallery with Barry Guy, Maya Homburger and Barry McGovern) is an example of this influence. Meeting improvising ideas with a notation that is adequate is a huge challenge. This work is a combination of highly organised compositional structures that meet elements of improvisation that takes into consideration the performance and interpretative signatures of the musicians and actors concerned. It's a daunting but very rewarding challenge.
Your own work KnowingUnknowing is originally an improvised work for prepared guitar and dancer, which evolved into a piece including an improvised video. What's the central idea/theme of this work?
The central themes of KnowingUnknowing started off as a series of questions around what is artistic expression — what is originality of expression? Does technical training as guitarist or dancer impede pure expression? What are the artistic connections between a musical phrase and a physical gesture?
In truth, these are questions of a philosophical nature; questions that are really asking about the nature of being human. What are the similarities, the difference between expression through the body and through a musical instrument? What can we learn about ourselves through exploring these shared epistemologies? This all sounds very dense and consciously self-referential. I certainly don't want to impose these questions as a requirement to people's enjoyment of the work. But I do hope that, even subconsciously, it encourages people to ask these questions about human expression.
Benjamin Dwyer's KnowingUnknowing is released on the Farpoint label. A concert of his works inspired by Beckett takes place at the Hugh Lane Gallery, Dublin on 3 February.